30 Trendy and Funny Mom Shirts Every Mom Can Relate to!
Funny mom shirts are the latest trends. After all, wearing them help us connect and empathize with other brave and courageous woman who are also running a kid crazy circus!
All of the following shirts are Etsy items, made and sold by moms who have lived each of the following motherhood moments imprinted in their T-shirts.
In addition, all shirts hold a 5-start review and have hundreds of comments of happy and satisfied customers.
Because every mom is in their unique phase of motherhood, I've decided to divide these cheeky mom shirts into specific categories so that you can find the perfect ones for you.
Here are all of the motherhood shirts categories:
Funny Motherhood Shirts
Classic Motherhood Shirts 
Mom of Babies Shirts 
Mom of Toddler's Shirts 
Girl Mom Shirts 
Boy Mom Shirts 
Christian Mom Shirts 
Whether you decide to purchase one shirt (or a few) for yourself, or give them as a gift, every one of these shirts are a statement piece. They all speak truth to us and our beautiful and chaotic #momlife journey!
30 Funny Mom Shirts for Every Mom
* This post contains affiliate link. Click here for more info.
♥ Funny Motherhood Shirts 
Haha! This is one of my favorite shirts of all time! This Motherhood is a walk in the park, Jurassic Park by Cut from the Heart hits the nail in the head. Either as a perfect mom gift or wearing yourself, this funny mom shirt will always be a conversation starter.
"I can't. My kid has practice, a game or something"… I think every mom can relate to this. This is honesty (or excuses) at it's finest.
The "I live in a house ran by a tiny army I made myself" shirt by Attitude Graphic is perfect for moms with a house full of little ones.
The Tired as a Mother by FAMS designs depicts the reality of momhood! Motherhood exhaustion is an understatement.
This "Mom brain, the struggle is real" shirt from FAMS designs is one of the shirts that I most resonate with is this list. We are definitely all in this together.
This is the best mother definition I have ever seen! Now you can wear your "Mother Definition" T-shirt by bonny tees and empathize with moms who "get it".
Oh man, I feel like I can live by this motto… The Mama needs a Nap shirt by Olivia and Olivia App is every mom's must-have!
This Surviving Motherhood mom shirt by Simply Sage Market it's as accurate as it can be. Specially, if you are in the toddler stage.
Probably wore this Motherhood shirt yesterday. Raise you hand if laundry hasn't gotten washed and you have worn the same clothes twice before washing… or three, or four times! Laundry? What is that? Haha.
♥ Cute Motherhood Shirts
I think every mom feels this way… the Thankful for my tribe mom shirt by MVP T-Shirts  is a great reminder of the joys of motherhood.
This super cute Mama Est.(year) shirt also by FAMS designs is perfect for all moms. It showcases the year you became a mommy. This endearing shirt also makes for great gift for new moms.
This Ma Ma Shirt from Kindred Rae is a simple and elegant motherhood shirt for every mom.
I don't know a mom that doesn't hustle! The Mom Hustle shirt is a perfect for every single mom out there that wakes it every morning and gives her all.
No choice but to Embrace the Chaos sista!
♥ Moms of Babies Shirts 
Yup! My new name is Mommy. Get used to that name because soon you will be telling your toddler you are changing your name to Lola (true story, haha).
How cute is this shirt? The Coffee Chugs and Baby Snugs by Saltee Peaches Apparel is a great shirt for mommies of babies.
♥ Mom of Toddler Shirts
As a mom of a toddler myself, I also you wish you that "may your coffee be stronger than your toddler".
This toddler mom shirt depicts the life of most toddler moms in one sentence… "The I got 99 problems and my toddler single-handedly created 98 if them in 27 minutes" shirt is an accurate statement!
♥ Mom of Girls Shirts 
The Mama of Drama shirt from FAMS design is the perfect addition any girl mom's wardrobe. As a girl's mom myself, THIS shirt hits the mark.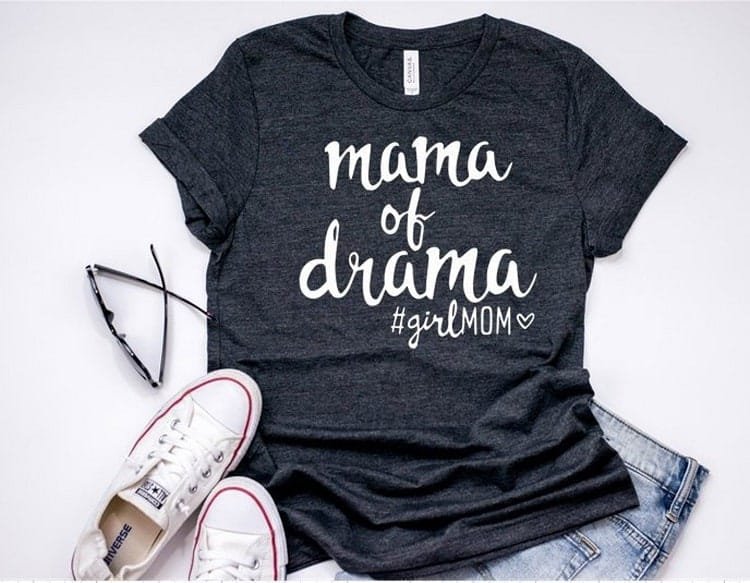 Represent your best friend anywhere you go by wearing this "Girl Mom" shirt by Mitten Molly. Or, simply gift it to girl moms in your tribe.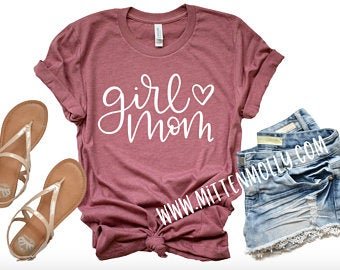 The Raising Wildflowers shirt from Little Mama Shirt Shop is a beautiful reminder of the beautiful and delicate job we have been grated. To raise beautiful, relentless, and strong girls.
For moms of multiple girls, the Life is Better with my Girls by Little Mama Shirt Shop is great motherhood shirt to wear or gift.
♥ Moms of Boys Shirts 
Another great mom short by FAMS designs is the Blessed with Boys shirt. If you are a mom to boys, this endearing shirt is a great option.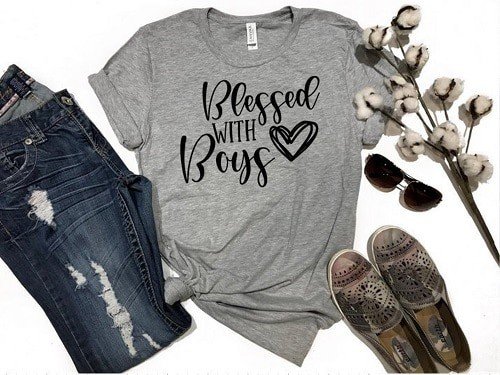 Yes, yes… Boys are wild and what better way to represent that with this "Support Wild Life Raise Boys" by Roko Clothing.
I love the simplicity of this "Mom of Boys" shirt by FAMS designs. It is such as staple mom shirt.
Such a simple hashtag in this "#BOYMOM" shirt from Shopiker… but man it speaks a thousand words.
♥ Christian Mom Shirts 
This is exactly what I run on every single day, so Give me Jesus and Coffee. This Daddy Mommy and Me shirt is super cute.
The "Blessed Mama" shirt by Cleopatra Candy is a must-have motherhood shirt for every mom. After all, despite how messy, untamed, unpredictable, unfiltered, and funny motherhood becomes… our children are always a blessing.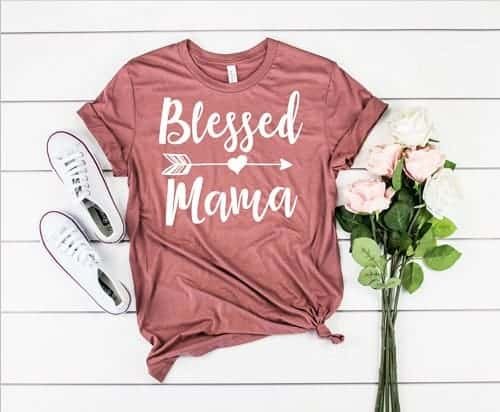 This one goes out to all of my prayer warrior mamas… Never underestimate a mom fueled by prayer.
I love this mom shirt! This Work Slaying, Jesus Praying Mama shirt by Work it Wear makes me feel confident and excited to take on the day.
★ Related Articles:
In Summary 
Yes! Motherhood hard. There are a million things going on at a million miles per hour.
But, isn't it nice to know that there are also millions of us out there living in the chaos right along side you?
So…. grab your favorite shirt, brew some fresh coffee and straighten your bum… because motherhood my friend "is a walk in the park…. Jurassic Park!"
So, which mom shirt from this list resonated the most with you and why?
Don't forget to pin for later…