The Ultimate Home Management Binder 2023 (Printable Bundle)
Trying to juggle house chores, daily meals, errands, finances, kid's school stuff, appointments, and special events can feel like, well… A LOT! That is why having a Home Management Binder can be our saving grace.
So, today I want to let you in on a little something I have been working on to help you stay grounded, organized, prepared, and SANE this year (and the years to come).
With this Ultimate Home Management Binder Printable Bundle, you will be able to plan and keep track of all of the moving pieces in your life like a pro!
But, first…
What is a Home Management Binder?
A Home Management Binder is simply a collection of helpful checklists, logs, lists, and trackers that allow you to manage all aspects of your household in an organized manner.
A home binder allows you, or anyone in the family, to find important information about your family nucleus and its day-to-day functions.
The key to a successful household binder is that it allows you to simplify your life by helping you stay organized and keep track of all things "home and family." It also provided you with multiple priority categories making it a breeze to find what you need in seconds.
Here are some great real-life scenarios of a good Home Management Binder and its purpose:
What is for dinner tonight? –Weekly Meal Planner
How much money did I spend this month, and much did I earn? –Monthly Budget Tracker (Income & Expenses)
What should we instruct the babysitter before we head out? –Babysitter Info Sheet
Where do I keep track of the things I have to do daily? Weekly? –Daily and Weekly Planner
What home maintenance project should we be performing seasonally? –Home Maintenance Seasonal Checklist (Pre-filled)
How do I keep track of the kid's school grades to stay on top of their progress? –Kid's School Grades Tracker
What is my car's VIN number? -Vehicle Service Log
What's the account number for _____ if I need to contact the company? -Monthly Bill Tracker
What do I need to get if I want to organize a party? -Party Planning Checklist
You need to travel or be out of the house for a few days… -Home Management Binder
What do you need to clean each day without the hassle of stressing over it? -Daily and Weekly Cleaning Schedule
…. you get the idea!
The goal is to keep all of this vital information organized and easy to find so that you—or anyone in the family in the event you aren't home—can find it.
The Ultimate Home Management Binder (Printable Bundle)
Keeping all of that in mind, I decided to create a Home Management Binder that will help us busy moms (or anyone) looking to get organized and prepared to tackle the daily life demands. Hassle-free.
I made it my mission to make this Printable Home Management Binder the ultimate household binder. As you will soon see, it is a non-fluff, sanity-saving, 85+ pages of printable goodness.
As a mom of two, wife, entrepreneur, and a checklist enthusiast freak of nature… I know that these checklists, trackers, logs, lists, and planners will help you stay grounded and in control.
Next, we will take a closer look at all of the categories included in the Ultimate Home Management Binder (Printable Bundle) and how you can use them to change the way you go about your day-to-day—for the better!
Here are all of the Home Management Binder categories and printables you will find in this sanity-saving bundle:
1. Contacts and Passwords
I know most of us like to keep our emergency contacts saved on our phones these days. However, having emergency contacts and numbers, all in the same place, at an arms reach, is a great idea.
If you have kids, letting them know where the Home Management Binder is and where they can find these emergency contact number is important.
Another super helpful printable in this category is the Password Log. How many times do you end up having to change your passwords because you can't remember your login information?
Well, not anymore. This simple log will solve that problem.
Printables in this category include:
Emergency Contacts
Emergent Phone Numbers
Password Log
2. Planner and Calendar Printable
One of the most important sections in this home management binder is the Planner section.
The best way I stay organized is to see a monthly overview of the things I have to accomplish in a given month. More so, being able to organize those tasks on a weekly and daily basis is a gamechanger when it comes to managing your home and your life!
The Weekly Planner Printable and Daily Planner Printable in this category are a great asset to any home binder.
Printables in this category include:
Quick Reference Calendar
Monthly Calendar Overview x 12
Daily Planner
Weekly Planner
3. Personal Goals
You know the saying, "If mama is not happy, nobody is happy?" This category is to ensure we find time for the things we want to do and accomplish on a personal level.
Whether you use the Habit Tracker to help you remember to drink enough water every day or the Daily Prayer Journal Entry to dedicate a few minutes to God each day, this category of printables will help you achieve that.
Printables in this category include:
Monthly Habit Tracker
Daily Prayer Journal Entry
Daily Gratitude Journal Entry
Wish List
Bucket List
Books to Read Checklist
Movies to Watch Checklist
4. Kids
If you have kids, the Kid's Section of the Home Management Binder is a lifesaver. It allows you to assign weekly chores, keep track of their grades, and have all the information you need to be written down if you ever need to hire a babysitter.
Printables in this category include:
Weekly Chore Chart
Babysitter Info Sheet
Kid's School Info
Kid's School Friends List
Kid's Class Schedule
Kid's Grade Tracker
Reading Log
5. Meal Planning Printables
I know I am not the only one scrambling at the last minute on busy days, trying to figure out what's for dinner! At least not until I started using the Weekly Meal Planner from this home binder! It is not only sanity-saving but money-saving.
When you can plan out what meals you are making for the entire week, you are likely not to overspend or overbuy at the grocery store.
And… for the cherry on top, place your weekly meal plan somewhere visible in your kitchen and you won't hear a, "Mooooooooom/Honeyyyyyy what's for dinner," ever again!
Printables in this category include:
Weekly Meal Planner
Weekly Dinner Planner
Grocery List
Favorite Recipe List
Recipes to Try
65 Easy Dinner Ideas List (pre-filled)
Reading Log
6. Finances
This wouldn't be a real Home Management Binder if we didn't include a Finances Section. Aftercall, being on top of our finances is one of the most vital aspects of managing our home.
One of my favorite finance printables in this category is the Monthly Budget Tracker (Income and Expenses). I love that I can see how much money I've made, how much I've spent, and how much I could save.
Seeing this information from month to month has been a great motivation for me as it allows me to think of ways to increase my income and cut my expenses.
Printables in this category include:
Monthly Bills Tracker
Monthly Budget Tracker (Income & Expenses)
Savings Tracker
Debt Payoff Tracker
Bank and Credit Card Info
7. Medical Record
No one ever wants to think of the doctor or dentist visits, and rightly so.
But having a designated place for all things medical stuff is a smart idea. Now you can keep all medical-related things in one place.
Printables in this category include:
Doctor's Info
Doctor Visits Tracker
Dentist Info
Dentist Visits Tracker
Medical Record Log
Medication Tracker
8. Health and Fitness
Getting healthy and exercising is something we all look to do at some point. If that is something you already do or are looking to be more intentional about this health and fitness printables are sure to help.
Printables in this category include:
Weekly Workout Schedule
Weekly Food Diary
Weight Tracker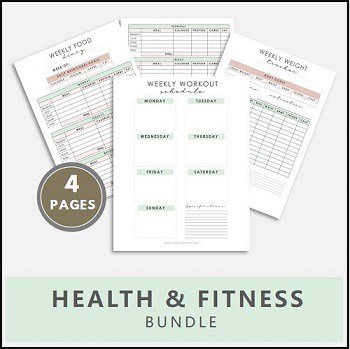 9. Cleaning and Organization Printables
Oh, the joys of cleaning! I won't sit here an pretend that a checklist will make you fall in love with cleaning and organizing—unless that is totally your things, which is great! But what I will tell you is that the Daily and Weekly Cleaning Checklists will help you keep track of the chores you want to get done day after day and week after week.
Also, look out for the pre-filled Cleaning Ideas List to help you graft your own schedule without forgetting anything.
Printables in this category include:
Daily Cleaning Checklist
Weekly Cleaning Checklist
Cleaning Ideas List (Daily, Weekly, Seasonally) pre-filled
Cleaning Schedule (Yearly Overview)
10. Household Printables
If for the life of you, you can't seem to remember what you should be doing around your house every season, you are going to love the pre-filled Home Maintenance Seasonal Checklist.
It contains a list of home maintenance projects you can schedule in your calendar to complete on time each season.
In addition, if you love gardening or are looking to add more floral interest in your landscape, the Gardening Project Monthly Planner and Budget Tracker will help you keep organized and stay within budget.
Printables in this category include:
Home Maintenance Seasonal Checklist (pre-filled)
Home Maintenance Seasonal Checklist (blank)
Gardening Projects (Monthly Planner & Budget Tracker)
Plants & Veggies Growing Planner
Donations Log
Vehicles & Insurance Info Sheet
11. Birthday and Special Event Printables
And last, but definitely not least is the Birthday and Special Event Printables.
I love that the Birthdays and Anniversaries List allows me to list all of those important dates all in one place. Additionally, you can buy presents ahead of time and check them off on that same list so that you don't forget anyone's special day.
Also, needless to say the Thanksgiving Dinner Planner and the Christmas Gift List are lifesavers when those Holidays come around.
Printables in this category include:
Birthdays & Anniversaries List
Party Planning Sheet
Thanksgiving Dinner Planner
Christmas Gift List
12. Extras
In addition to all of the Home Management Binder Categories this bundle also includes a few extra goodie I think you'll love, including….
Design Covers x4
Spines Designs x2
Divider Tags Designs x3
Notes Page
General Checklist Page
Creating a Home Management Binder
Ok! Now that you know all of the goodies that you can have at your disposal by grabbing the Home Management Binder let's talk about how you can put it together.
Honestly, there isn't much at all that goes into creating your own home management binder. Once you have downlead your household binder printable, the rest comes down to preference.
Nevertheless, here are a few ideas for creating your ideal Home Management Bundle!
Printing your Printables
I created this Home Binder with many helpful printables and categories as I felt were the most useful. However, not all pages might apply to you, your family routine, or your circumstances.
If that is the case, you can select the pages you want to print and skip those you want to pass on. You can specify the pages to be printed and those to skip on your printer settings before printing.
Once all of the pages you wish to be part of your Binder are printed, then it is time to decide which pages you want more of.
For instance, at the beginning of every month, as I am getting ready to plan for the month ahead, I find it helpful to print out:
Weekly Planner x4
Weekly Meal Planner x4
Monthly Budget Tracker (Income and Expenses) x1
Of course, this all comes down to preference. So, if you rather do it all at once to last you an entire year, you can do that also.
Making your Binder
Once you have all of your printables printed, it is time to put them in your binder.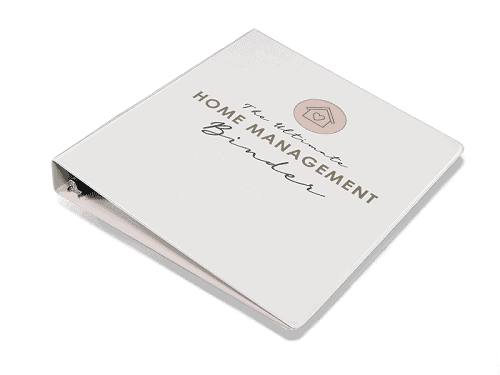 You can choose whichever 3-ring binder you like and most of the other materials you probably have around your home. But here are some recommendations to make the best out of your binder:
Once you put your printables in your binder, pick the Binder Cover and Spine Insert of your choice included in this bundle.
Finally, you can use any of the 3-tab designs to better identify each category (also included in the bundle) or feel free to write your own.
Using your Binder and Printables
Once your Home Management Binder is ready, it is time to put it to good use.
Here are a few pointers you might find helpful when using your Home Management Binder:
Write down as much information as you can in your logs and trackers.
Let everyone know what the Binder is about and put it in a place where everyone can access it (unless you choose otherwise).
Keep copies of checklists and trackers that you often use in the binder pockets so that they are easily and readily accessible.
Frequently Askes Questions
Will I receive a physical product?
No. The Home Management Binder is a printable PDF download. After confirmation of payment, you will automatically receive your download and start using it right away.
Is this product refundable?
No. Because of the digital nature of this product all sales are a final and non-refundable.
Do I have a limit in the times I can download this product?
No mam! Once purchased, this Home Management Binder is yours for life (for personal use). You will receive it as a PDF, and you are free to save it anywhere you like (computer file, memory card, flash drive, iCloud, Dropbox, Google Drive, etc.).
You can print the Home Management Binder printable as many times as you wish, year after year!
What is the best way to print and use these printables?
Simply print the downloaded printables, open holes, and put them in a 3-ring binder (1 inch works just fine).
You can also buy 5-tab dividers and use the 5-tab divider labels in this bundle to easily identify the categories.
Related Article:
In Summary
There are a million moving pieces in our day to day life! Much of which can be a distraction to accomplishing the things that we want to get done.
I hope that this Printable Home Management Binder helps you manage all things home and family. So that you can feel in control, less stressed, and accomplished.
Do you think this Home Management Binder will be beneficial to you? What are your favorite categories?