15 Productivity Hacks for Busy Moms (To Make the Most Out of Your Day)
Today is the day we tackle our biggest daily challenges by implementing some (or all) of the following  productivity hacks for moms…
Do you ever feel like you are in the hamster wheel of motherhood? Like there is so much you want to get done, but you can't find the time or energy to do those things?
Well, I got good news for you mama…
Although it is completely normal to feel overwhelmed and frustrated by your daily load, it isn't a feeling you have to constantly live with.
Today we are talking all about productivity hacks for busy moms, so that you can have more focus and clarity as you work through your daily tasks.
All of the following productivity hacks will help with efficiency and simplifying your mom like.
Productivity Hacks for Moms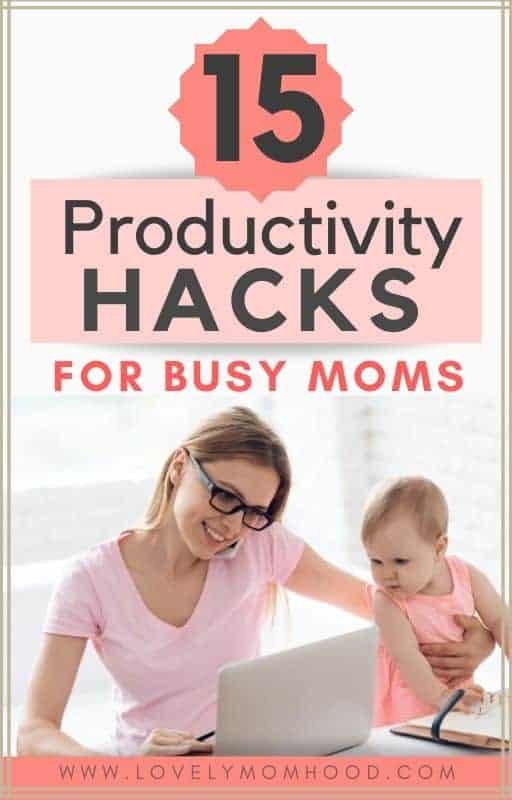 * This post contains affiliate link. Click here for more info.
1. Implement Routines
Productivity hack #1 is to implement routines. Routines allow for structure and order, hence increasing productivity.
Examples of great routines for moms include:
For more Kid's Routine check out Family Routines: How to Automate your Household.
2. Have an Organization System
Productivity hacks #2 is all about having a system place. An organizational system to be exact.
As moms, we all struggle with keeping it all tidy and organized. However, if we have a plan in place that we can follow each time, then the tasks at hand become less overwhelming.
Examples of organization system include:
Daily and/or weekly checklist
Cleaning and organization calendar
Note: If you don't know where to start with your organizing projects and would like to take a hold of your home once and for all, you are going to want to check out Abby Lawson's Impactful Habits, Organized Home Course.
Abby will teach you step-by-stew to create a peaceful, organized home you will love!
Get a peek behind the scenes of Impactful Habits, Organized Home by vising the sales page, here, and watching a video Abby put together for you.
3. Invest in a Planner 
Productivity and planning go hand in hand!
Having a written list of daily tasks before you start your day saves you time, reduces stress and anxiety, and increases productivity.
A fantastic resource to use is the Ultimate Home Management Binder (Printable Bundle). I can't stress enough how instrumental this binder has been to help me stay organized, be prepared, and keep my sanity!
Not only does it contain the planner aspect of it, but also other important checklist, trackers, and logs such as budgeting, meal planning, kids, health and fitness, cleaning, and more.
It will become the literal command center of you home.
The Home Binder includes 11 Categories and 85+ pages!
4. Meal Plan and Meal prep
If it feels as though cooking for the entire family takes the most time and effort, you are not alone.
Like if that wasn't enough, we must do it every, single, day!
That is why having a solid meal plan can help immensely with productivity and with automating and simplifying your mom life.
Two things that can help with that are meal planning and meal prepping.
MEAL PLANNING
Meal planning allows you to have a weekly/monthly overview of what you are making in advance. In turn, eradicating the stress of having to think, "what do I make for diner today?"
Meal planning also helps you save on weekly groceries by knowing ahead of time exactly what you need to buy.
If you struggle with dinner, and who doesn't these days, you will LOVE Eat at Home Meal Plans.
Basically, for the price of one dinner out you can pay to have all your dinners planned and grocery lists made for the whole year!
Color-coded shopping lists and printable tried and true family recipes make dinnertime a breeze!
When you join Eat at Home Meal Plans you get access to all FOUR meal plans for one price:
Traditional
Wholesome traditional
Slow Cooker/Instapot
No flour/No Sugar
Trust me when I tell you… these will be the best $10 a month you will ever spend!
>> Grab your meal plans and other perks for only $1o/month (limited time) <<
MEAL PREPPING
Meal prepping is another great productivity hack. Similar to meal planning, meal prepping allows you to save time and money.
With meal prep you get to preparing whole meals or dishes ahead of time which saves you time and your sanity!
Having prepped meals on hand also helps control portion size and help you eat healthier.
A great meal prepping resource is Freezer to Slow Cooker Meal Plan Subscription.
The Freezer to Slow Cooker & Instant Pot Meal Plan is a tool to help you spend less time in the kitchen and more time doing the things you love.
You will learn how to assemble all of your meals at the same time, in an hour or two over the weekend.
That way you don't have to cook when time is rushed. When you subscribe to Freezer to Slow Cooker Meal Plan Subscription, your weekly menu will be delivered to your inbox every Friday morning and will include:
Receive Meal Plans every Friday morning
Slow Cooker/Instant Pot Recipes for 6 Dinners per Week
Grocery List, with Meal Numbers so you can Easily Alter Your List.
Step-by-step assembly instructions.
Printable labels
Side Suggestions
Side Suggestion Grocery List
Extra Blank Copy of the Grocery List Template( so you can easily add items to your list)
If you want a healthier option, they also have a Low Carb Option.
>> Check out Freezer to Slow Cooker Meal Plan Subscription, here <<
5. Focus on 3 tasks a day
I know that as moms we have a million things going on. In turn, we feel that if we don't complete a full list of chores, we didn't get much accomplished.
Granted, not all days look the same. But for the most part, focusing on 3 tasks a day will help improve productivity and reduce overwhelm.
You can accomplish this by having a scheduled game plan in place which allows you spread out your tasks throughout the week.
If once you schedule in your weekly tasks, you notice that your must accomplish more than 3 tasks on a particular day, then read on to the next productivity hack.
6. Tackle your hardest task first
When you plan out your day, try to tackle your hardest task first!
Doing so serves multiple purposes:
You will tackle your hardest task when you are likely to have the most energy.
You get it out of the way and can focus on smaller tasks.
Grants you peace of mind
Give you a boost of accomplishment, hence increasing productive and further motivation.
7. Make you bed in the Morning!
Okay, so this might seem like an unorthodox productivity hack, but bear with me for a minute.
If you know anything about the military is that they are up before the roosters…. AND the first thing they are trained to do first, is make their beds!
Why?
"If you make your bed every morning you will have accomplished the first task of the day. It will give you a small sense of pride and will encourage you to do another task, and another. And by the end of the day, that one task completed will have turned into many tasks completed. That's what Admiral McRaven explained at a University of Texas commencement speech.
8. Wake up Early
One of the most fundamental aspects of productivity and one of the top qualities of highly productive moms is making the best use of your time.
Waking up early is one of the best ways we do just that.
I know that all motherhood journeys are different.
While some moms wake up to get themselves ready for work and the kids ready for school, some other moms get ready to start their day by staying home and tackling the day with a toddler tied to their ankle and a breastfed infant.
Throughout my motherhood journey, I have experienced both scenarios, and the truth is… the same principal applies.
Waking up before the kids allows you to start the morning off with a bit more clarity and focus.
So, whether you choose to spend that time:
spending time with God
reading a book
drinking your coffee in peace and tranquility
getting a 15-minute home workout
or catching up on dirty dishes
… an early rise will be extremely beneficial from a productivity and sanity standpoint.
9. Don't work in silence
Often times productivity needs a little… push!
One of the best ways to do that is to add a little audio motivation.
I personally love to work with some background noise.
So, choose something to listen to while you get things done.
Here are a few ideas of things you can listen to as you work through your daily tasks:
Music
Podcast
Motivational Audios
An eCourse
10. Enlist help
As moms we often feel as though we must do it all ourselves to feel productive.
But the truth is that enlisting some help could assist in getting more accomplished.
The same way you do a list of things you need to get done for the day/week, single out those tasks you would like more help on and delegate.
11. Delegate More
As previously mentioned, one of the best ways to enlist help is to delegate more.
A productivity hack that many moms don't consider is to establish a Chore Schedule for the kids.
Implementing a chore schedule will take some tasks off your hands while helping your kids learn responsibilities and setting expectations.
12. Get enough sleep!
I know, I know. "Mom Sleep" is usually non-existent. However, it is simply common sense that if we don't try to get a decent night sleep, the next day we feel beat.
Productivity, energy, focus, and clarity all come from a rested body and mind.
13. Eat Healthy
Along with getting enough sleep, eating healthy is also part of the productivity check list.
Eating well balanced meals, rich in healthy fats, protein, and healthy carbs will provide you with energy and nourish your brain for the tasks at hand.
In other words, food is fuel! So, the healthier we eat, the better out body functions.
14. Exercise
The same applies to exercise.
We all know exercise makes us healthier, BUT it can also have a tremendous impact on productivity.
Exercise has the ability to:
Give you more energy
Keep the momentum going
Improve mental ability and alertness
Give you a mood boost
Improve memory and learning
"Exercise ensures proper brain function in the hippocampus region. Not only does exercise keep blood, glucose and oxygen levels high, feeding the brain, it releases endorphins into the body giving your mood a boost. Aerobic exercise is shown to change the size of the area of the brain involved in memory and learning." (Source)
Here are a few exercise ideas for busy moms:
Go for a 20 minute walk every day
Follow a 15 at-home workout video
Try yoga and meditation before the kids wake up
15. Practice Gratitude
Finally, on our productivity hacks list is practicing gratitude.
Nothing, and I mean nothing, gives me a higher sense of motivation to get things done on my list than counting my blessings and working with purpose.
The Home Management Binder has 2 great printables dedicated to daily gratefulness and prayer.
When you practice gratitude often, it puts a lot of things into perspective.
Counting your blessings and being grateful for what you have will help you have a better outlook on your daily tasks.
When we give meaning and purpose to our daily responsibilities it feels less daunting to complete them, hence improving productivity.
After all, a positive mindset is just as important as physical well-being to help you push through the day.
★ Related Articles:
In Summary
Productivity is more than just checking boxes of a list.
It is a combination of good practices that help you be more efficient in completing your daily tasks.
Motherhood is one of the most complex roles that exist. However, by using some (or all) all of these productivity hacks you are sure to see a big difference in the way you go about your daily routine, for the better.
What productivity hacks do you use to get you through the day?
Don't forget to pin for later…