The Best Natural Baby Products List 2023 (Skin Care, Bath, Diaper Care)
Ever since their conception, our children become our world. So, it is only natural we would want the very best for them. Opting to use the best natural baby products for their daily care ensures we are doing just that.
It isn't a secret that many harmful chemicals and toxic ingredients lurk in many baby products around the world.
After all, companies are allowed to use almost any ingredient they wish. Did you know the U.S. government doesn't review the safety of products before they're sold.
Pretty crazy, huh?
It is important we learn to identify these potential hazards, so that we can offer our babies natural and safe products for healthier growth and development.
Thankfully, we don't have to do it alone!
EWG 
EWG (The Environmental Working Group) is a non-profit, non-partisan organization dedicated to protecting human health and the environment. Furthermore, they use the power of information to do just that.
The Environmental Working Group researchers have evaluated thousands of safety studies and ingredient labels to assess the known and suspected hazards in personal care products we use daily.
EWG's staff scientists compare the ingredients on personal care product labels and websites to information in nearly 60 toxicity and regulatory databases. You can find their full database here.
Skin Deep® is a rating system that EWG undertakes independently of manufacturers. In Skin Deep®, products receive hazard scores based on their ingredients.
In EWG's Skin Deep Database, products are given a "hazard score" ranging from 1-10 according to their individual ingredients.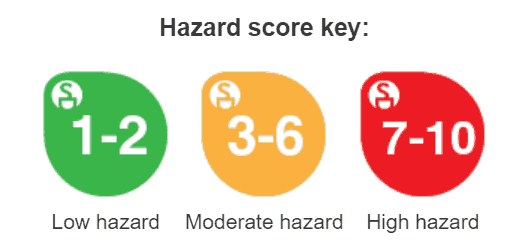 This in an example of what a product analysis looks like.
In addition, you might notice a product receive a EWG VERIFIED™ mark.
Copyright © Environmental Working Group, www.ewg.org. Reproduced with permission.
This certification system whereby manufacturers apply to the program and work with EWG to ensure their product(s) meets EWG standards. The standards concern ingredients to be avoided, good manufacturing practices, and transparency.
As you scroll down the same page you will also be able to find each ingredient and it's individual score and health concerns, if any.
BUT IT SAYS "NATURAL" ON THE LABEL!
A common assumption is that natural products or ingredients are safer than synthetic ones because "it says so on the label". However, that is not always the case (source).
These days, there is a big "All-Natural Craze". Never assume that a product labeled "natural" is actually safe for your baby or yourself for that matter.
Often times ingredients might be "naturally derived", but it doesn't necessarily mean it is safe for the body. It is common to see a manufacturer create or label a "mostly" natural product, and still be able to add in a few toxins. Which in turn defeats the purpose. Not cool!
And that's where EWG comes in.
BABIES AND PRODUCT SAFETY
"One of the reasons EWG is focusing on children's health is because of the unique susceptibility children have.  They are in critical periods of development. Exposure to pollutants, exposure to chemicals may have a much greater impact than it does later in life. And so it is really critical to minimize that exposure, minimize the potential harm from contaminants", says David Andrews, Senior Scientist at EWG.
However, lucky for you, I've already done all the leg work.
In this article you will find a complete list of the very best natural baby products based on EWG's Skin Deep® hazard score system, reviews, and parent satisfaction.
Here is the list of some of the best natural products for babies in the following categories:
Skin Care products 
Bath Care product
Diaper Care products 
Eco Subscription Boxes
Baby Care Product Companies at a Glance 
BEST NATURAL BABY PRODUCTS
* This post may contain affiliate links. Click here for more info. 
The truth is, much of what we place on our skin is absorbed into our bloodstream. It is no different than what we put all over our baby's body.
In fact, babies and children have a higher susceptibility for increased absorption and sensitivity.
As per a recent study, it is critical that infant cleansers and moisturizers be well tolerated and not disrupt the outer layer of the skin. That is because skin-barrier function continues to develop through at least the first year of life.
In the study, they evaluated the tolerance of baby skin-care products with at least 95% naturally derived ingredients on infants and toddlers.
They concluded that baby skin-care products were well tolerated by infants and toddlers when used alone or as part of a skin-care regimen.
So, consider the following natural baby products when choosing them for your baby.
BEST BABY SKIN-CARE PRODUCTS 
Here is a list of some of the best natural products for babies in the following categories:
Baby body lotions 
Baby sunscreens 
Baby Body Lotions
The Baby Mantra Calming Lotion is a body lotion moisturizer made from the best non-toxic, natural and organic ingredients designed for daily treatment of common baby skin-care issues, including rashes and eczema. 
They have the EWG VERIFIED™ mark and are hypoallergenic. They contain zero harmful sulfates, parabens, phthalates, dyes, and synthetic fragrances or chemicals.
Natutal Baby Calendula Body Cream by Attitude. Their natural baby body cream is paraben-free, silicone-free, PEG-free, formaldehyde-free, and free of synthetic fragrances or perfumes.
Additionally, this cream is plant-based and vegan, with blueberry leaf and calendula, known for their remarkable protective and antioxidant properties, and moringa seeds.
Natural Baby Calendula cream is EWG VERIFIED™ as well.
Baby Sunscreen
EWG has uncovered mounting evidence that one common sunscreen chemical, oxybenzone, poses a hazard to human health and the environment, based on their research over the course of 12 years (source).
Many sunscreen brands include oxybenzone in most of their products, including those marketed to children.
The following recommendations are oxybenzone-free sunscreens and the safest to use based on EWG hazard score.
Please read the instructions in the sunscreen's label carefully, as most of them are recommended for infants 6-month of age and older.
Adorable Baby By Loving Naturals (Non-Nano Zinc Oxide) is an all-natural sunscreen SPF 30+ for babies, toddlers, children, and adults. Adorable Baby also comes conveniently as sunscreen stick for mess-free application. It has a Skin Deep® score of 1.
AVEENO Baby Continuous Protection Sunscreen is a great option. It is a mineral-based sunscreen, SPF 50 and it has a Skin Deep® score of 1.
Please ensure to purchase the
mineral
version of this product as shown in this picture. Other Babyganics sunscreen products have an EWG Score of 2 and 3.
BEST NATURAL BABY BATH PRODUCTS
A lot of baby bath products are also full of toxic chemicals.
Much like skin care products, baby bath products seep in to the baby skin and are absorbed into the bloodstream.
In addition, bath products come in contact with their eyes, mouth, and occasionally particles are even inhaled in the bathing process.
For decades, Johnson & Johnson was the preferred brand for American families for their bath time regimen.
Little did we know, there were harmful chemicals that were lurking beneath their extended ingredient list.
In 2014, they announced their products will no longer contain two potentially harmful chemicals, formaldehyde and 1,4-dioxane, after being put in the hot seat by consumers and environmental groups (thank you EWG!).
With its "Choose Gentle" initiative, Johnson and Johnson is debuting its new products with 50 percent fewer ingredients.
Currently, Johnson's Baby Shampoo receives a Skin Deep® score of 4.
So, changing the way we traditionally see bath products for our precious little babies, let's take a look at some best health conscious options that are (thankfully) now available.
Here is a list of some of the best natural products for babies in the following categories:
Shampoo and body wash
Baby Bubble Bath
Shampoo & Body Wash
Organic Lavender Shampoo and Body Wash by Baja Baby. They have amazing reviews on Amazon and are EWG VERIFIED™.

Baby Leaves Science 2-in-1 Natural Shampoo Body Wash by ATTITUDE. This baby shampoo/body wash also has the EWG VERIFIED™ mark.
Babo Botanicals Sensitive Baby Fragrance Free Shampoo and Wash. Another great and popular option which is also EWG VERIFIED™.
Carina Organics Baby Shampoo and Body Wash. Carina organics baby shampoo earns a Skin Deep® score of 1. 
Related Article: 10 Great Non-Toxic Bath Toys for Babies and Toddlers 
BEST NATURAL BABY DIAPER PRODUCTS
Here is a list of some of the best natural products for babies in the following categories:
Disposable baby diapers 
Cloth diapers
Baby wipes
Baby diaper rash cream
Disposable Baby Diapers
Did you know that diaper companies aren't required to list what's in their product on the packaging?
Truth is, there are potentially harmful chemicals that are known to be present in some disposable diapers, including chlorine, dyes, fragrances, phthalates, and more (source).
After extensive research, BabyGearLab concluded that while it may be difficult to know precisely how the chemicals from disposable diapers can affect your baby, or to what degree their risk of exposure is, is better to be safe than sorry.
Based on their compiled research, and that of many other sources through my own independent research here is what you should avoid when buying diaper for your baby:
Chlorine-free
Fragrance-free
Phthalate-free (preferred)
Dye-free (or at least pigments without heavy metals)
Needless to say, Pampers and Huggies don't make the cut, so based on the above criteria, here are the top diaper recommendations for both disposable and cloth diapers:
Nature Babycare Eco-Friendly Premium Disposable Diapers by Naty (for Sensitive Skin)
Babyganics Ultra Absorbent Diapers
Seventh Generation Baby Diapers Free and Clear

Cloth Diapers
Once again,
BabyGearLab
went hard at work and for the course of a year evaluated all aspects of the very best of 15 carefully selected cloth systems.
They tested for:
daily hands-on use with real babies
absorbency
research of the eco-health of each diaper
fit comparisons
leakage
level of comfort for baby
ease of use
As per their study, here are the top three recommendations:
Rumparooz One Size Cloth Pocket Diaper Snap, Bonnie
Flip Hybrid Reusable Cloth Diaper Cover with Adjustable Snaps and Stretchy Tabs
GroVia Reusable Hybrid Baby Cloth Diaper Hook & Loop Shell
Baby Wipes
Given the nature and sole purpose of this article, I will be recommending only ONE brand of wipes.
After I had my daughter, it opened my eyes to a whole lot of baby product ingredient concerns.
Being a girl, I "wiped" her differently than my son for obvious reasons. I felt as if she was so much more susceptible and exposed since cleaning her private area seemed more intrusive.
That's when I went on a deep dive into wipes and their ingredients. Not too far behind than diapers, wipes contain all sorts of the same chemical (fragances or "parfum", pthlalates (known endocrine disruptors), parabens, and phenoxyethanol, amongst others.
My extensive research led me to WaterWipes Sensitive Baby Wipes. The simplest wipe, next to using cloths and warm water. They contain zero chemicals as they are made up of 99.9% water with a touch of grapefruit seed extract to guard off mold. They can be used from day one on sensitive newborn skin.
Furthermore, they are "Amazon's Product Choice" and have a 4.3-star review (out of 5) from almost 5,000 consumers.
Since then, that is all we use in our house. Even, as a personal care products for my husband and I. To keep in the bathroom, to clean their hands and faces at the playground, keep in my purse for unexpected messes… I mean, you name it, I use it.
We order them in bulk from Amazon as a recurrent automatic order and I receive them at my door every two months without having to lift a finger (1 box=12 packs/60 count=720 wipes). Set it, and forget it.
Because these wipes don't have chemical preservatives, they can develop mold more quickly. If you buy them in bulk, ensure you use them regularly and avoid putting them in a diaper warmer.
Diaper rash cream
Diaper rash ointment is a must-have if you have a baby. Whether you use cloth diapers or disposable diapers, babies' skin is susceptible to all kinds of irritation from exposure to many factors, especially urine and feces.
It is extremely important we use products that are safe and chemical-free. Especially, because when we put on diaper rash cream, there is already a skin barrier permeability and irritation.
Babo Botanicals Sensitive Baby All Natural Healing Ointment is EWG VERIFIED™. It also has really good reviews for helping to relieve eczema.
Baby Badger Balm is another popular choice. It currently receives a Skin Deep® score of 1 and it has great reviews on Amazon.
Aquaphor Baby Healing Ointment Advanced Therapy Skin Protectant is a best seller in Amazon for baby lotions, coming at an almost 5 out of 5 customer reviews of nearly 3,500 customers (as of this writing).
This multipurpose ointment also happens to be a personal favorite and it receives a Skin Deep® score of 2 (still in the green zone as "low hazard" product).
Aquaphor Baby not only works for baby diaper rash, but it temporarily helps protect minor cuts, scrapes, burns and helps to relieve cracked skin and lips.
From personal experience it works amazingly well, treating a mild rash in less than 24 hours.

ECO SUBSCRIPTION BOXES
In addition to the EWG database for finding safe and healthy options for your baby, there are eco boxes. Eco (or green) subscription boxes allow you to explore and discover safer baby products by receiving them at your door every month.
ECOCENTRIC MOM SUBSCRIPTION BOX
Ecocentric Mom Boxes are monthly care packages to support well-being for baby and mom. Every item in the box is free from chemicals and toxins, made by the very best small brands, and matched exactly to your stage of pregnancy or the age of your child from pregnancy through baby's second birthday.
The Ecocentric Mom Box (Pregnancy to Toddler) is perfect for moms looking to explore and discover healthy and toxic-free products options on a monthly basis from the comfort of their home.
GROVE COLLABORATIVE
Grove Collaborative is a customizable auto-shipment service that delivers all-natural home, beauty, and personal care products directly to your door!
Grove Co delivers eco-friendly home essentials, including household cleaning, personal care, baby, kid, and pet products.
Everything available at Grove has met their standards for non-toxicity, efficacy, and sustainability, and is cruelty-free.
Baby Care Product Companies at a Glance 
There are many other products that rank as "low hazard" in EWG"s Skin Deep® Database.
And for reference, you can also find how a company as a whole scores, based on the ingredients they use in their products.
Here of some of the most popular baby companies and their Skin Deep® Database hazard rating:
As you can see some scores rage quite drastically. That is why it is important to research each product individually. Hence my selection process for each product in every category of this article.
You are more than welcomes to do further research on your own, using EWG's Skin Deep® Database.
Additionally, if you rather shop in-store, next time you visit your local store you can check to see how those baby products rank for hazard ingredients.
Related: Best Natural Cleaning Products (A Mom's Guide)
CONCLUSION
Making sure we are raising our babies with the very best products ensure they grow up happy and healthy.
Thankfully today, we live in times where although chemicals and toxins seem to be on the rise, there are also more resources and tools to ensure we avoid as many harmful products as we can.
Thanks to groups like the EWG which have dedicated themselves to protecting human health and the environment, we can access such tools which make it extremely easy to search for less hazardous products.
In addition, more and more companies are taking initiatives to use more natural and organic products.
So, finding the best natural baby products is easier now than it ever was.
Ultimately, all we can do as parents is to try our best to care for them and protect them the best way we can.
Disclaimer
The safety of products suggested by Lovely Momhood are based on the Environmental Working Group rating system. This by no means implies that any given products is 100% safe. It just means that based on EWG's extensive research on every single ingredient that goes in to any particular product, it is given a certain "hazard score". The "hazard score" does not reflect efficacy or quality. The value is simply a determination of a hazard score based on the product's ingredients. Any product on this list can be researched on the EWG's Skin Deep® Database for specific details on each ingredient and their health concerns, (if any).
What are the best natural baby products you have come across?
Pin it for later…