Where to Buy Super Cheap Kids' Books? (50-90% OFF List Price)
Have you been looking for cheap kids' books lately?
I hear you, mama! For years I've paid retail price kids' books and I always wondered why they were so expensive.
Now, don't get me wrong… I understand the work that goes into creating the beautiful books our kids love, but paying $11.99 for ONE small children's book on every Target trip was starting to wear on me.
Well, Target books no more! I recently came across KidsBooks.com and it has changed everything for us.
All kids' books are soooo cheap…. and what do I mean by cheap? Every single book on Kidsbooks.com is 50-90% off the original list price.
I recently just bough 9 books for my kids from Kids Books and was blown away by the saving!
Read on and I will explain who they are, why they are so cheap, and tips when browsing to get the best for your buck.
Warning: You will want to buy them all!!!
Where to Buy Cheap Kids Books?
* This post contains affiliate links. Click here for more info.
What is KidsBooks.com?
Although KidsBook.com are the new kids in the block when it comes to cheap books for kids they are no strangers to a good book bargain.
Book Depot (KidsBooks.com parent company) has been in the book business for over 30 years and is one of the largest bargain booksellers in North America.
With the power of such a large organization behind them,  they were able to curate a great selection of kids' books for the best prices.
You can read more about Kids Books, their mission, product, service, and guarantee here.
Why are books from Kids Books so cheap?
The secret to their cheap kids' books prices is no secret at all.
They simply purchase large volumes of excess inventory from many publishers or excess inventory at bookstores that have been returned to the publisher.
Because they are able to get these books in larger quantities and with a massive discount,  is that they are able to provide us with such great prices.
Here is a screenshot of my recent order discounts…
Their promise to you is that their books are always new, unread, and in good condition.
Something to note is that most (but not all) Kids' Books books are marked by the publisher with a small line or dot on the edge.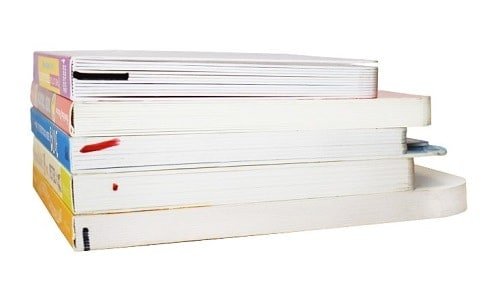 The mark simply identifies that particular book as a "bargain book" that can no longer be returned to the publisher for credit.
I don't know about you, but I'll take a barely noticeable mark at the bottom edge of my brand new book any day for a 50% to 90% discount!
Note: In addition to regular bargain kids books also lookout for…
Scratch and Dent Books
Scratch & Dent books are also new books but may have dents, scratches, torn, missing dust jackets, etc.
They will still be in good condition and make great reading material. However, they are not eligible for returns as they are sold "as-is" and are final sale.
Special Buy books
Special Buy books are brand new books printed specifically for Kidsbooks.com. Unlike the regular "bargain books" and "scratch and dent books", "special books" titles have no line or dot on the edge of the book.
Both of the aforementioned categories tend to come with even bigger discounts and you can filter your search to make them easier to find.
Here's how…
What books can you find in kids' books?
Kids Books have thousands of books for kids of all ages (babies-teens) in stock.
What I love the most is that they have all books under the spectrum, for every kid, for every age, for any preference.
Here are some examples of filters you can use to find the perfect books by using the drop-down arrows…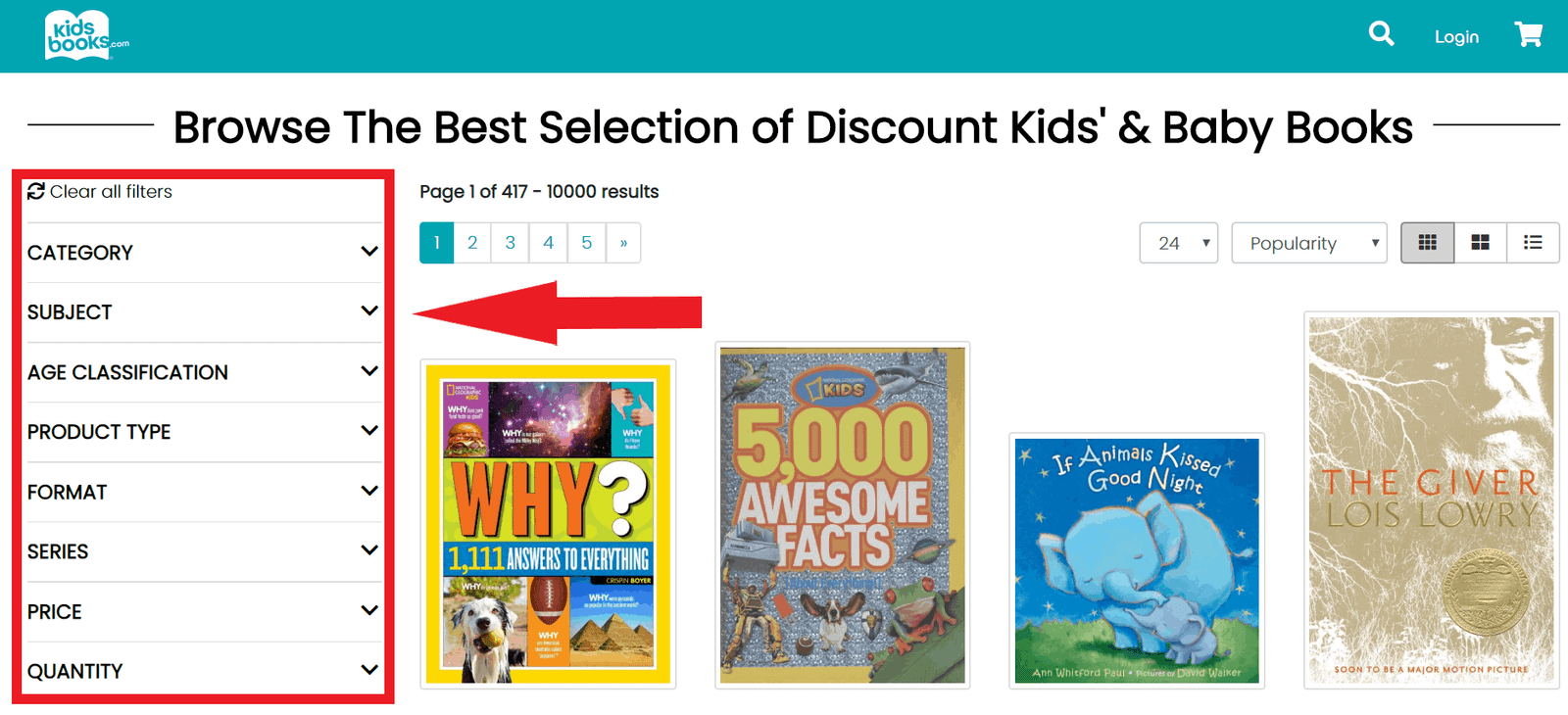 Categories
Popular kids books
Trendy kids books
Religious kids books
Children fiction/non-fiction
Tween fiction/non-fiction
Format
Hardcover
Paperback
Softcover
Picture books
Boxed sets
Sticker books
Coloring books
Pocketbooks
Miniature books
… and many more!
Subjects
Actions and adventure
Activity books
Animals
Art
Bedtime
Bible
Business and Careers
Classics
Comics
Crafts
Family
Games
Health
Holidays
Humor
Math
Music
Nature
Nursery Rhymes
Picture Books
Poetry
… and 80+ more subjects!
Ages Classifications
Popular Series
I Can Read Books
Nancy Drew
Zack Files
Little House
Arthur Adventures
Books of Wonder
Chronicles of Narnia
Amelia Bedelia
… and 103 more kids books series!
… you name it, they have it! All for only a fraction of the retail price.
The Secret to purchasing cheap kids books from KidsBooks.com?
There are two great ways to make the most out of buying cheap kids' books from KidsBooks.com.
1. FREE shipping on all orders $35 and over
Well… as if the bargain books for kids weren't enough of an incentive, KidsBooks.com offers FREE Shipping for orders $35 and over.
That is why I purchased 9 books total in my latest order.
Not only did I save $39.50 (52% savings), but I was also able to apply the FREE shipping offer.
2. Buy in bulk for a year's worth of bargain kids books
So, why would you possibly purchase multiple books all at once?
Well, if you have a Kinder gardener who just learned how to read, then you know your book order will consist of 20 Pete the Cat "I Can Read" Books.
My son, who is six, loves to read books. However, after a few times of reading the same book, he is ready for a new one.
That is one of the bigger reasons why KidsBooks.com has been such a blessing. I get to:
Buy all of his favorite kids books for dirt cheap
He gets to have new reading material often
They arrive at my door
They all get to be handed down to my daughter (currently 3 years old)
I use them as chore rewards
If your child isn't a reading enthusiast, which is totally okay, you can buy a year's worth of bargain kids' books. What do I mean by a year's worth? Well, you can purchase Holiday books and include them in a seasonal gift basket for kids.
Here are some Holiday kids books ideas:
Valentine's Kids Books
Easter Kids Books
4th of July Kids Books
Thanksgiving Kids Books
Christmas Kids Books
Special occasions kids books ideas:
Losing a tooth, Tooth Fairy
Welcoming a new sibling
Potty training
Good manner, sharing, and being kind to others
Caring for pets
Learning (planets, animals, nature, shapes, and numbers, etc.)
Bible-based kids books
Other ideas for having kids books handy:
Forced to stay indoors (rainy days, snow days, home from school, etc.)
Gifting books to other children
School book exchange
Donating older books to your nearest library, church, learning centers, foster homes, etc.
My KidsBooks.com Review and Personal Experience
If you haven't been able to tell by now, my experience with Kids Books was great!
My first order was a total of 9 books with a listing price of $77.90 (Yikes!).
The final purchase price, however, was only $38.30 (52% OFF list price), and my order qualified for FREE Shipping (because it was over $35).
I could have gotten many more books for that price, but I got fancy with a few of the options because of my son's reading preference.
I received the order a few days later in this cute little box.
I was soooo excited to see all of the books I had ordered….
And just as they promised, every single book was in perfect condition.
I was over the moon excited!
I was able to use 2 books for the kids' Holiday book exchange AND the other 7 as Christmas gifts.
Also, as expected, some book also had the "bargain book" placed by the publisher.
All in all, amazing experience, great savings, and they arrived at my door. Win, win, win.
Monthly Book Subscription Box for Kids
Another great option for saving on kids' books is to look into a book subscription for kids.
My favorite monthly books subscription box for kids is Lillypost.
With Lillypost you will receive new monthly books of your choosing to your doorstep every month.
This monthly book subscription for kids is geared from newborns to 7-years-olds.
To get monthly book boxes sent to your kids, all you have to do is:
Select your little one's age.
Pick the type of books you want in your subscription box.
Choose the plan that's right for you, from month-to-month to prepaid that offer better discounts.
…. and they'll do the rest!
The books are yours to keep and every box is up to 70% off the retail value!
One of my favorite things about Lillypost is that they we give back to children in need through literacy. For every box they ship, Lillypost donates a book to a child in need. As of this writing over 190,000 books have been donated!
★ Related articles:
In Summary
Kids grow by the minute, and so do their interests in books subjects, and categories.
Having a place that grows with your children and allows you to save money in the process is a blessing.
Try out KidsBooks.com for yourself and let me know in the comments what you think.
P.S: Remember to take advantage of the FREE Shipping on orders $35+.
How much did you pay for the last kids' books you bought?
Oh, don't forget to pin this for later, and please share this article if you found this article helpful! Thanks a million, mama.