Best Organic & Non-Toxic Mattresses for Kids of All Ages
Non-toxic and organic mattresses for kids make for a safer and healthier environment in our kid's rooms.
That said, finding reputable, non-toxic children's mattress brands could be quite the task. Some companies claim their products are "natural", "safe", and "green" when the opposite could be true.
So, how can we make sure our child's mattresses are non-toxic and safe? Today we'll go into further details so that you are informed and can make better decisions for your family.
Why opt for Non-Toxic Organic Mattresses for Kids?
When we think of our beds, mattresses, in particular, are the one item that we come into close contact with every single day. Consequently, for an average of 8 hours a day, we could be exposing ourselves and our children to the emission of invisible chemicals and fumes.
These airborne chemicals are called Volatile Organic Compounds (VOCs).
Volatile organic compounds, or VOCs, are gases that are emitted into the air from products or processes. (Source). In the case of mattresses, VOCs are found in the form of formaldehyde and flame-retardant chemicals.
The same is true for our children. Children may have worse health outcomes after exposure to VOC chemicals than an adult, as per the Ohio Department of Health, because they are still developing, they
While some of those chemicals at low levels might pose little to no risk to our health, others might have short, and long-term adverse health effects.
As the EWG explains, "Most mattresses on the market are full of chemicals that can pollute your bedroom air and harm your body. This includes polyurethane foam that can emit volatile organic compounds, or VOCs, harmful chemicals that can cause respiratory irritation or other health problems; flame retardant chemicals linked to cancer, hormone disruption, and adverse effects on the immune system; and PVC or vinyl covers that can damage developing reproductive systems."
So what is the solution? Invest in a non-toxic organic kid's mattress that is free and clear of these harmful emissions, with certifications you can trust.
Organic & non-Toxic Kids Mattresses Certifications
Unfortunately, kids' mattresses (as well as adult mattresses) emit large amounts of VOCs and contain polyurethane foam, PVC, phthalates, chemical fire retardants, and numerous other chemicals that children, as well as adults, inhale.
In essence, when choosing a mattress for kids, EWG recommends looking for the main following certifications:
UL GREENGUARD GOLD Certified
GOTS Certified (Global Organic Textile Standard)
GOLS Certified (Global Organic Latex Standard)
OEKO-TEX® Standard 100
UL GREENGUARD Gold Certified
GREENGUARD Gold Certification is a voluntary third-party program that tests for over 10,000 chemicals and Volatile Organic Compounds (VOCs).
Products that have achieved GREENGUARD Certification are scientifically proven to meet some of the world's most rigorous third-party chemical emissions standards, helping to reduce indoor air pollution and the risk of chemical exposure. (Source)
GOTS Certified Kids Mattress
GOTS (Global Organic Textile Standard). GOTS is a textile production certification that limits the use of toxic bleaches, dyes, and other chemical inputs during the production process of textiles. It is internationally recognized as the toughest organic textile standard because it goes far beyond verifying the organic farming process to include every manufacturing step.
In fact, finding a GOTS Certification Seal in a product ensures a "safer" product than one with the USDA Organic Seal. That is because it ensures that the materials used are USDA Organic and that the entire harvesting, manufacturing, packaging, labeling, trading, and distributing process is chemical-free. Learn more…
GOLS (Global Organic Latex Standard)
Similarly, the Global Organic Latex Standard (GOLS) is another highly regarded certification, especially in the sleep products sector. GOLS outlines requirements for latex products made from organic raw materials and materials from non-organic origins. A product must contain more than 95% of certified organic raw material to achieve GOLS certification. Learn more…
OEKO-TEX® Standard 100 Certification
The OEKO-TEX® Standard 100 Certification is another great certification to look for in your kid's mattresses.
If a textile article carries the STANDARD 100 label, you can be certain that every component of that article (for instance, every thread, button, and other accessories) has been tested for harmful substances and that the article, therefore, is harmless for human health. It even allows you to use a product's unique ID on the label to trace the countries and production facilities in which the labeled article was produced. Learn more…
Now that we know what to look for regarding organic and non-toxic kids' mattresses let's narrow them down so you can pick the best option for your child!
Organic & Non-Toxic Kids' Mattresses Brands
*This post contains affiliate links. Click here for more info.
1. Naturepedic Organic Kids Mattress
Naturepedic is one of my top choices for organic and non-toxic kids' mattresses!

Naturepedic Kids' mattresses check all the boxes of safe and healthy mattresses for our children. They have been leading the organic mattress revolution for over 20 years, and rightly so.
So, what's to love about Naturepedic's Kids' Mattresses? Well…They are:
UL/GREENGUALD Gold Certified
GOLS Certified
GOTS Certified
Made-Safe Certified
Oeko-Tex Standard 100 Class 1 Certified
OCS Certified (Organic Content Standard)
OTA Certified (Organic Trade Association)
Green America Certified
Certified Vegan
Made in the U.S.A by Amish craftsmen
Naturepedic promotes organic, non-toxic, environmentally proactive, and sustainable production for mattresses and bedding. Naturepedic uses non-toxic materials including organic cotton fabric, organic cotton fill l organic latex, non-GMO sugarcane, etc.
Naturepedic uses NO polyurethane foam, NO flame-retardant chemicals, NO flame barriers, NO formaldehyde, NO vinyl, NO PFCs/PFAS, NO glues or adhesives, NO pesticides, and NO GMOs. In particular, Naturepedic mattresses are also designed to meet flammability standards without the need for any flame-retardant chemicals or chemical flame barriers.
Naturedoedic Kids currently offer 2 options for kids' organic mattress. They are the 2-in-1 and the Verse.
Naturepedic 2-IN-1 Kids Mattress
The 2-IN-1 Kid's Mattress is perfect for little ones who are transitioning to a "grown-up" mattress. It comes with a waterproof side for potty training, and another beautifully quilted side for lasting comfort. Available in Twin and Full Sizes.
Naturepedic Verse Kids Mattress
The Verse Kids Mattress is great for young children as well as older kids. Upgraded support system for improved comfort. As they say, the Verse is designed for kids but strong enough for adults. Available in Twin, Twin XL, Full, and Queen.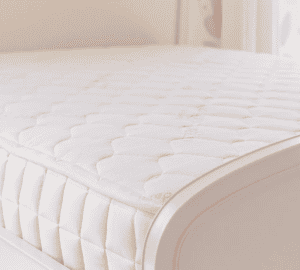 Both of these Naturepedics Kids Mattresses come with a 100-night trial, a 25-year guarantee, free returns, and free shipping in 7-10 business days (Continental U.S.).
** For 15% OFF Naturepedic Organic Mattresses use our promo code: LOVELYMOM15, at checkout!
2. My Green Mattress
My Green Mattress is also a great option for kids' organic mattresses. This is the mattress we bought our son.

My Green Mattress products meet all of the certifications recommended by EWG, including:
GREENGUARD Gold Certified
GOTS Certified Organic
GOLS Certified Organic
OEKO-TEX Certified
Made-Safe Certified
Made in U.S.A!
My Green Mattress featured organic kid's mattress is the Kiwi Organic Mattress.
Kiwi Organic Mattress
The Kiwi Organic Mattress by My Green Mattress is another fantastic choice for a non-toxic, organic kid's mattress.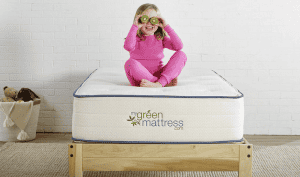 One of the many things I love about this model is that it is available in all sizes from twin to California King) making it perfect for kids of all ages!
The Kiwi Organic mattress is a hand-tufted mattress with added lumbar support and holds up to 600 pounds. It offers a 20-year warranty and a 365-day satisfaction guarantee after a 30-day sleep trial.
Kiwi Organic Bunk Beds Mattress
My Green Mattress also offers a Kiwi Bunk Bed Option for a fraction of the cost with all of the same top-quality materials as their standard Kiwi.
These mattresses are available in both full and twin sizes and can support up to 400 pounds.
Fun Fact: My Green Mattress was born from necessity when craftsman Tim Masters, as a need to help his daughter, Emily, who suffered from eczema and environmental allergies. Tim was inspired to develop an all-natural mattress made from only the healthiest and most honest materials… and the rest is history!
3. Avocado Organic Kids Mattress
Avocado is another wonderful company when it comes to all things organic mattresses and accessories for the entire family.
Similar to the aforementioned organic mattress companies, Avocado's mattresses possess most of the same certifications, including:
GREENGUARD Gold Certified
GOTS Certified Organic
GOLS Certified Organic
Made-Safe Certified
Climate Neutral Certified
Made in U.S.A. (California)
Their featured organic kids' mattress is the Eco Organic Kids Mattress.
ECO Organic Kids Mattress by Avocado
The ECO Organic Kids Mattress by Avocado is a great and affordable kids' organic mattress. The Eco Mattress is available in sizes Twin, Twin XL, and Full.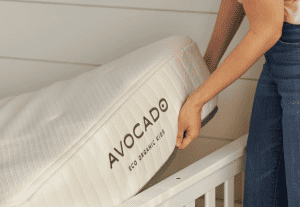 Their low profile design is perfect for bunk beds and this mattress pairs perfectly with their Kids Trindle Bed Frame.
The bed frame is made of solid wood bed frame which they craft themselves in their FSC®-certified (C156318) woodshop in Los Angeles. They only use non-toxic, zero-VOC glues, paint, and varnishes. The bed frames come in solid natural wood and white.
4. Happsy Organic Mattress
Another fantastic option for an organic, non-toxic kids' mattress is the Organic Mattress for Happsy.
Their certifications include:
GREENGUARD Gold Certified
GOTS Certified Organic
Made-Safe Certified
1% For the Planet
Made in the U.S.A.
What I love about the Happsy Organic Mattress is not only that they offer sizes Twin through California King, BUT they also offer two "comfort" options (firm-medium and plush). The Happsy mattress is approximately 10″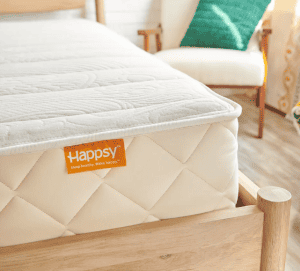 5. Essentia Organic Kids Mattress
Essentia is another great company that offers parents the ability to purchase organic mattresses for their kids.
Essentia strives to create foam mattresses that never make you choose between performance or health. Their certified organic factory is non-toxic and ethically sourced.
Their certifications include:
GOTS Certified Organic
GOLS Certified Organic
Green AmericaApproved
Hippocrates Health Institute Approved
ISO (Certified)
Beyond Organic
Handcrafted in Canada
Their featured kid's mattress is the Grateful Bed Jr Organic Mattress for Kids.
Grateful Bed Jr Organic Mattress
The Grateful Bed Jr Organic Mattress for Kids is a 6-inch mattress that features Essentia's patented Beyond Latex™ organic foam and certified organic Hevea latex support core all wrapped in an organic cotton cover that is easily removed and cleaned. It is available in sizes Twin and Full.
Favorites Organic Kids' Mattresses Summary
We recently purchased a Naturepedic 2-IN-1 organic kids' mattress plus one of their organic pillows for our son and are extremely happy with our purchase.
★ Related Articles:
Final Thoughts
I know it can feel daunting to research and choose a non-toxic and organic mattress for our kids. And I also know firsthand that it can be quite an investment.
With that said, the best investment we can make for ourselves and our children is in our health and in products that help us achieve exactly that.
My hope is that this post has helped narrow down your search to finding the very best, and most affordable organic kids' mattress on the market.