15 Best Non-Toxic Cribs and Mattresses (GREENGUARD Gold Certified)
Non-Toxic cribs and mattresses make for a safer and healthier environment in our baby's nursery.
That said, finding reputable non-toxic crib and mattress brands could be quite the task. After all, some companies claim their products are "natural" and "safe" when the opposite could be true.
So, how can we make sure our baby's cribs and mattresses are non-toxic and safe? Well, that is exactly what we will be talking about today.
That way, you can feel confident knowing that your investment is your baby's best and safest nursery product.
Why opt for Non-Toxic Cribs and Mattresses?
A wide range of toxic chemicals could lurk in the air of our homes due to fumes emitted by VOCs.
These airborne chemicals are called Volatile Organic Compounds (VOCs).
While some of those chemicals at low levels might pose little to no risk to our health, others might have short, and long-term adverse health effects. In fact, studies have found that levels of several organics average 2 to 5 times higher indoors than outdoors.
VOC's are widely used as ingredients in household products. Paints, varnishes, and wax all contain organic solvents. (Source) Sadly, baby cribs and mattresses are no exception.
That is why it is extremely important that we opt for non-toxic cribs and mattresses that are VOC-free!
But how do we do that? How do we know that the crib and mattress we choose for our baby's nursery are non-toxic and VOC-free?
What are GREENAGUARD Gold Certified Cribs?
When it comes to baby cribs and mattresses, look for those that are GREENGUARD Gold Certified.
GREENGUARD Gold Certification is a voluntary third-party program that tests for over 10,000 chemicals and Volatile Organic Compounds (VOCs).
Products that have achieved GREENGUARD Certification are scientifically proven to meet some of the world's most rigorous third-party chemical emissions standards, helping to reduce indoor air pollution and the risk of chemical exposure. (Source)
Baby furniture companies that are certified under this program bear the GREENGUARD Gold label. That ensures their furniture has been independently tested and verified to meet rigorous standards for chemical emissions and volatile organic compounds (VOCs), such as formaldehyde or phthalates.
In turn, making baby cribs and mattresses that have been awarded this certification the safest in the market for your baby.
Solid Wood Construction
It is also important to consider the material our babies' cribs are built from.
A healthier and safer option is cribs that are made of 100% real wood.
GOTS Certified Crib Mattress and Why Does it Matter?
In addition to GREENGUARD Gold Certification, other important certifications for non-toxic baby mattresses are Global Organic Textile Standard (GOTS), GOLS (Global Organic Latex Standard), and OEKO-TEX® Standard 100.
Unfortunately, conventional crib mattresses (as well as children and adult mattresses) emit large amounts of VOC's, and contain polyurethane foam, PVC, phthalates, chemical fire retardants, and numerous other chemicals that babies and children inhale.
Studies found that "infants spend most of their time sleeping and are likely to be exposed to elevated concentrations of chemicals released from their crib mattresses… The results suggest that crib mattresses are an important source of VOCs and infant exposure to VOCs are possibly elevated in their sleep microenvironments." (source)
Certified GOTS Organic crib mattresses are the safest option, free of harmful chemicals and materials.
In essence, when choosing a crib mattress, look for the following certifications…
GOTS (Global Organic Textile Standard). GOTS is a textile production certification that limits the use of toxic bleaches, dyes, and other chemical inputs during the production process of textiles. It is internationally recognized as the toughest organic textile standard because it goes far beyond verifying the organic farming process to include every manufacturing step. In fact, finding a GOTS Certification Seal in a product ensures a "safer" product than one with the USDA Organic Seal. That is because it ensures that the materials used are USDA Organic and that the entire harvesting, manufacturing, packaging, labeling, trading, and distributing process is chemical-free. Learn more…
GOLS (Global Organic Latex Standard). Similarly, GOLS is a highly regarded certification, especially in the sleep products sector. GOLS outlines requirements for latex products made from organic raw materials and materials from non-organic origins. A product must contain more than 95% of certified organic raw material to achieve GOLS certification. Learn more…
OEKO-TEX® Standard 100 Certification. This is another great certification to find in crib mattresses. If a textile article carries the STANDARD 100 label, you can be certain that every component of that article (for instance, every thread, button, and other accessories) has been tested for harmful substances and that the article, therefore, is harmless for human health. It even allows you to use a product's unique ID on the label to trace the countries and production facilities in which the labeled article was produced. Learn more…
In summary, as per EWG (The Environmental Working Group), always try to look for the following certifications when looking for your baby's mattress as a first option:
GREENGUARD Gold Certified
Global Organic Textile Standard (GOTS)
Global Organic Latex Standard (GOLS)
Oeko-Tex Certification
Now that we know what to look for regarding non-toxic cribs and mattresses let's narrow them down so that you can pick the best option for your baby!
Non-Toxic Cribs (By Brands)

* This post contains affiliate links. Click here for more info.
1. DaVinci's Crib Collection
The DaVinci GREENGUARD Gold Certified Crib Collection is a great and affordable choice.
It is currently available on Amazon and has great customer reviews.
The DaVinci cribs are non-toxic and come with the following safety features:
GREENGUARD Gold Certified.

Made of 100% solid sustainable New Zealand pine wood.

They are finished in a non-toxic multi-step painting process and are lead and phthalate-safe.
In addition to its non-toxic features, most of DaVinci's crib models are 4-in-1 convertible. This means they come with 4 adjustable mattress positions that can be lowered as your baby begins to sit and stand. They also convert to toddler beds, daybeds, and full-size beds.
Something to consider is that most model conversion kits are sold separately.
Here are some great DaVinci's Crib model options…
Kalani 4-in-1 Convertible. Kalani is one of their most popular crib options. Dimensions are 54.5 L x 35 W x 42 H inches.
Meadow 4-in-1 Convertible. This Model comes with the toddler conversion kit included. Dimensions are 59.25 L x 30.75 W x 46.75 H inches.
Asher 3-in-1 Convertible. It also comes with the toddler conversion kit, AND I love that it also comes with drawer storage space underneath! Dimensions are 56.5 L x 30.13 W x 35.88 H inches.
You can check out the full collection of DaVinci's GREENGUARD Gold Certified Crib Collection here.
2. Babyletto's Crib Collection
Babyletto's Crib Collection is another great option for GREENGUARD Gold Certified Cribs.
They are also available through Amazon, and they offer a wide range of beautiful models. Babyletto cribs have a bit of a modern and clean line design.
Their safety and non-toxic features include:
GREENGUARD Gold Certified.

Finished in a non-toxic multi-step painting and staining process that is lead and phthalate-safe.

Made with sustainably sourced solid New Zealand pine wood, one of the most renewable woods available.
What I also love about their non-toxic cribs is that most of their models come with the toddler conversion kit included in the purchase price.
That makes it extremely convenient. The last thing you want to be thinking about when your toddler is ready to transition to a toddler bed is the model number of your baby's crib and IF there is a conversion kit available.
Babyletto's popular models include:
Hudson 3-in-1 Convertible. This is their most popular option, with 5-star reviews. This model comes with a toddler bed conversion kit included. Dimensions are 53.5 L x 29.75 W x 35 H inches.
Modo 3-in-1 Convertible. The Modo is one of their most affordable models and it also comes with a toddler bed conversion kit. Dimensions are 53.25 L x 30 W x 34.75 H inches.
Loly 3-in-1 Convertible. The Loly is also a popular choice because of its unique design. It also includes the toddler bed conversion kit. Dimensions are 53.63 L x 30.25 W x 35.25 H inches.
Gelato 4-in-1 Convertible. This is the perfect crib for small spaces. It is suitable for newborns and babies beyond 18 months. It transitions from crib to toddler bed and daybed, with a toddler bed conversion kit (sold separately). Dimensions are 39.75 L x 26 W x 35 H inches.
You can check out the full collection of Babylettos's GREENGUARD Gold Certified Crib Collection here.
3. Silva Furniture
Silva's Crib Collection is another great brand of beautifully crafted, non-toxic.
Although not a GREENGUARD Gold Certification recipient, I made the exception with this brand because Silva Cribs' materials seem to abide by all of the parameters met by non-toxic crib brands.
As per the manufacturer:
Silva cribs are made with 100% solid hardwood.
All Silva finishes are organic, 100% non-toxic, and 100% safe.
They contain NO Formaldehyde, Lead, VOCs, or any toxic elements.
Their cribs are built in Europe (unlike DaVinci's and Babyletto's, which are built in China).
When you see Silva Furniture's craftsmanship, you will understand my obsession.
They are also all 4-in-1, transforming into a full bed that will grow with your baby until their early teenage years.
Silva's Crib Collection features 3 gorgeous models and 5 different organic finishes…
Edison Convertible Crib. This model is stunning. It is a very modern farmhouse and classic at the same time! Dimensions are 59 W x 31 D x 51 H inches.
Serena Convertible Crib. This model is very elegant and sophisticated. I love the softness of the curvy headboard. Dimensions are 59 W x 31 D x 51 H inches.
Jackson Convertible Crib. This is a contemporary craftsman by design and is great for both modern and classic nurseries. Dimension is 59 W 31 D x 51 H inches.
4. Green Cradle Cribs
Green Cradle is another great non-toxic crib brand to consider.
They have not opted to become GREENGUARD Gold Certified, but they seem to meet the standards. Green Cradle carries 13 crib models and offers 6 types of hardwood: solid brown maple, red oak, hard maple, cherry, and walnut woods.
Here is why you should consider Green Cradle's Cribs as an option…
Cribs are made in the U.S.A from local sustainably-grown trees and 100% solid wood construction.
They use no plywood, MDF, veneers, engineered wood, composite wood, or particle board anywhere.
Crib finishes are 100% VOC-free and made of cold-pressed linseed (flax seed oil). Therefore they contain no chemicals, varnishes, polyurethanes, stains, synthetic preservatives, heavy metal driers, or carcinogens and are formaldehyde-free.
There is something beautiful about seeing the true color of the wood you selected and knowing it is in its most natural form possible!
Gratitude Slat Crib. It is their most affordable model and a 3-in-1 convertible crib.
Spring Green Slat. It is also a 3-in-1 convertible crib and is built in classic French sleigh style.
Again, if you a looking for the most natural crib possible, one of these solid wood cribs with cold-pressed linseed oil is the way to go.
Non-Toxic Crib Mattress (By Brand)
5. Naturepedic
My top choice for organic and non-toxic baby mattresses is Naturepedic!
Naturepedic baby mattresses check all the boxes of safe and healthy mattresses for our babies. They have been leading the organic mattress revolution for over 20 years, and rightly so.
So, what's to love about Naturepedic Organic Baby Mattresses? Well…
They are GREENGUALD Gold Certified.
GOLS Certified Organic.
Made-Safe Certified.
They are handcrafted in the U.S.A. by skilled Amish craftsmen.
No flame retardants.
Chemical-free (no vinyl/PVC, phthalates, perfluorinated compounds (PFCs), biocides, or other questionable chemicals commonly found in crib mattresses).
No polyurethane foam.
I mean… talk about the perfect organic baby mattress!
Naturepredic currently offers 3 organic baby crib options, an Organic Mini-Crib Mattress option and an Organic Oval Crib. The two most popular options are the following:
The Classic Seamless Organic Baby Mattress. This Organic Cotton model follows CPSC and pediatrician recommendations for firm support and a snug fit. It also features reinforced edges for toddlers. This mattress can be wiped clean.
The Organic Breathable Baby Crib Mattress. With this model, airflow under the baby allows heat to dissipate more efficiently, helping regulate temperature for less sweaty backs. According to airflow tests, breathability may also increase safety by allowing air to flow freely around the baby. This organic crib mattress option features a removable, washable, breathable surface (with waterproof backing).
6. My Green Mattress
The Emily Organic Crib Mattress by My Green Mattress is also a great option.
This natural crib mattress meets all of the certifications recommended by EWG, including:
GREENGUARD Gold Certified crib mattress.
GOTS Certified Organic cotton and wool cover.
GOLS Certified Organic coconut coir (breathable).
OEKO-TEX Certified and GOLS certified organic and Dunlop latex.
Another great feature is that each Emily Organic Crib mattress has a 10-year warranty and a 120 Night Sleep Trial.
Additionally, all Emily Crib Mattresses are handcrafted in their family-owned GOTS and GOLS Organic Certified Factory in Illinois, U.S.A!
Fun Fact: My Green Mattress was born from necessity when craftsman Tim Masters, as a need to help his daughter, Emily, who suffered from eczema and environmental allergies. Tim was inspired to develop an all-natural mattress made from only the healthiest and most honest materials… and the rest is history!
7. Luxury Organic Crib Mattress by Avocado
The Luxury Organic Crib mattress by Avocado is a fantastic option for parents who are looking for a luxurious and transitional mattress.
This GOTS organic-certified crib mattress features a two-stage design for infants and toddlers. The infant side is firmer by design to provide the support your baby needs in this pivotal time of growth, and the toddler side is slightly plusher while still providing the support your growing child needs as they move and fidget throughout the night.
This beautiful organic crib mattress is:
GOLS Certified Organic.
GOTS Certified Organic.
Formaldehyde-Free Certified.
MADE SAFE® Certified.
Handcrafted in Los Angeles.
… and has a 25-year warranty.
This Luxury Organic Crib Mattress is definitely a top contender.
Top Choices for Non-Toxic Crib and Mattresses Combinations
I know that was a lot of information. But needless to say, you can't go wrong with any of the aforementioned choices if you are looking for non-toxic and chemical-free cribs and crib mattresses.
However, if you are having difficulty deciding, here are my top choices as reference…
Most affordable
Longer Usage
Most Elegant
Overview of GREENGUARD Gold Certified Brands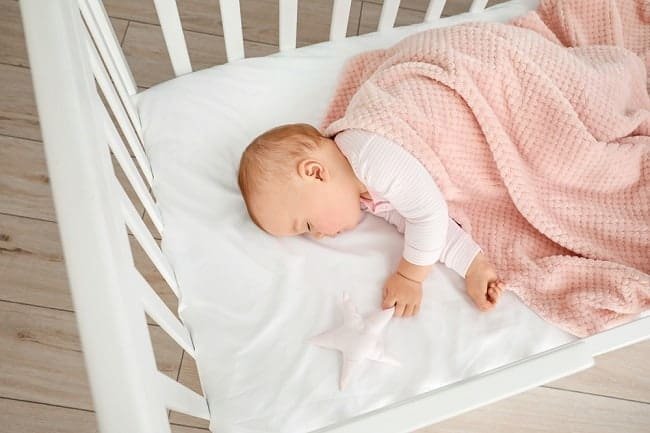 Cribs
Mattresses
Click here for a full list of Organic and Non-Toxic Baby Nursery Brands and products.
★ Related Articles:
Final Thoughts
I know it can feel daunting looking for non-toxic cribs and organic crib mattresses as you prepare for the baby's arrival.
After all, learning about natural baby products and creating an organic baby nursery takes time and research.
I hope that this Non-Toxic Cribs and Mattress List was helpful to you. And that it gives you peace of mind and confidence in knowing that your baby will be safe and protected by opting for any of these aforementioned products.
What non-toxic crib and organic mattress do you think will work best for your baby's nursery?
Don't forget to pin it for later…