23 Best Pregnancy Survival Kit Items (For Yourself or As a Gift)
A Pregnancy Survival Kit? Please! How dramatic…
Pregnancy is one of the most beautiful things that happens to most women. You don't need anything else… the "pregnancy glow" will carry you through all of your trimesters in a cloud made of marshmallows.
Yeah… OKAY! Until nausea, heartburn, back pain, stretch marks, breast engorgement, and Braxton Hick's kick in. Then, you will be running for the hills trying to look for pregnancy essentials that will help you feel a bit more human and a bit less, well… crappy.
What do I know about pregnancy survival kits?
Well, long story short, I worked a Surgical Nurse during both of my pregnancies. With my first child, in particular, I worked as an Open Heart Surgical Nurse.
Being on my feet for lengthy hours at a time, as well as the additional stress and demand on my body while being pregnant prompted me to find ways to well… survive pregnancy! My longest shift while pregnant was 26 hours through 3 back to back emergencies at 28 weeks pregnant.
So is there such thing as a "pregnancy survival kit"? You bet there is, and today I will be sharing with you pregnancy essential that will help you get through all the rough patches by having maternity essential that will help you do just that.
What will you find in this pregnancy essentials kit guide?
All products I share below could be conveniently purchased online. The selection is based on products that I have used myself and that are healthy and beneficial to your health and well-being.
This list also consists of products that are either organic, all-natural, non-toxic and that have great reviews by not just myself but other moms as well.
Although not all items will fit in a gift basket, I will be also listing pregnancy items that although bigger in size, are also pregnancy essentials.
Also, I will be listing the items of this Maternity Survival Kit by trimester so that you can easily pick and choose what you need based on your progression:
First Trimester: Pregnancy Survival Kit 
Second Trimester: Pregnancy Survival Kit
Third Trimester: Pregnancy Survival Kit
Pregnancy Survival Kit Gift Basket Ideas
Favorite Pregnancy Gift Baskets 
Additionally, if you are looking to create a "Pregnancy Survival Kit Gift Basket" as a gift to someone else or buy one already put together for you, the last section will have a lot of great options.
So, ready to make your pregnancy life or someone else's a whole lot easier? Let's get building…
The Ultimate Pregnancy Survival Kit
* This post contains affiliate links. Click here for more info. 
First Trimester: Pregnancy Survival Kit 
1.Ginger Tea
Make no mistake that the number one pregnancy survival kit item that every mama needs, is anti-nausea ANYTHING! Especially in the first, and even second trimester.
Adding one of these Organic Ginger Tea boxes to your pregnancy survival kit is a great idea.
2. Ginger Candy 
Continuity with our first trimester pregnancy kit must-have's, this is another anti-nausea lifesaver.
Organic Ginger Candies were my saving grace as I worked long hours in the Operating Room. Keeping a bag of these in my pocket and eating them as needed kept me from many trips to the toilet.
3. Saltine Crackers 
Organic saltine crackers are another simple yet helpful addition to any pregnancy survival kit. They are very easy on the stomach and although not super highly nutritious they are oftentimes the only thing that goes down…. and stay down.
They also make a nice addition to any pregnancy survival kit gift basket.
4. Sea-Bands
Another great addition to our maternity survival kit whether for you or someone else, is Sea Bands.
They are a great natural alternative to morning sickness relief. I did not personally use a Sea-Band but I have heard of others who have and swear by them.
The Sea-Band Anti-Nausea Acupressure Wristband has some of the best reviews (4,500+) on Amazon and it is an Amazon's Choice Product. 
5. Tumbler
Another great gift not just for the first for pregnancy but even postpartum and thereafter, is a Tumbler.
Staying hydrated is extremely important while pregnant and more so if you are planning to breastfeed.
I carry this water bottle with me around ALL day and it reminds me to drink water. I also love that regardless of where I leave my water (as I am notorious for doing that) it will remain cold throughout the day.
That might not be a problem for some moms to be, but here in South Florida, cold water during pregnancy, especially in the summer months is a must.
This 30 oz Tumbler is made of double-wall stainless steel (no plastic to worry about) and vacuum-sealed construction which keeps the water cold for 24 hours and hot for 8 hours.
6. Prenatal Vitamins
As you probably already know, prenatal vitamins are a pregnancy essential item and play a super important role in a healthy pregnancy.
A great and popular choice is the SmartyPants Organic Prenatal Formula. They are a daily organic gummy prenatal multivitamin and contain probiotics, vitamin C, D3, and zinc for immunity, biotin, omega 3 fish oil, selenium, B6, and B12.
* As with any other supplement, remember to consult your doctor before you start taking them.
7. Pregnancy Planner
Talking about a pregnancy survival kit, a pregnancy planner is a must!
Being so busy throughout both of my pregnancies a pregnancy planner allowed me to stay organized and in control. Everything I needed to get done (doctor's appointments, things to buy, baby items to put together, things to plan), everything was all in one place.
Now, if you are putting together this pregnancy survival kit for you or a friend, I totally recommend the Ultimate Pregnancy Planner Printable Bundle!
This handy Pregnancy Planner will give you all of the tools you need to not only keep track of your pregnancy, but provide you with pre-filled checklists to help you stay organized and prepared.
With this Pregnancy Planner Printable Bundle you will receive a 35-Page PDF containing:
Cover Page
Resources Page
Pregnancy Weekly Journal x1
Monthly Outlook Calendar x12
Trimesters To-do List x3 (pre-filled)
Prenatal Vitamins Tracker x1
Medical Provider & Insurance Info Sheet x1
Appointment Tracker x1
Baby Names Ideas List x1
Gender Reveal Planner x1 (pre-filled)
Baby Shower Checklist x1 (pre-filled)
Baby Shower Gifts List x1
Baby Registry Checklist x1 (pre-filled)
Nursery Planner Checklist x1 (pre-filled)
Hospital Bag Checklist 1 (pre-filled)
Hospital Bag Checklist x1 (blank)
Postpartum Care Kit Checklist x1 (pre-filled)
Baby Birth Journal Page x1
Baby Birth Story Page x1
Hospital Visitors List x1
Diaper Tracker x1
You can now say goodbye to the overwhelm of wondering what things you must get done throughout pregnancy… by just following along the multiple pre-filled Checklist that walk you step-by-step on what you need to get ready for baby, and MORE!
It is a must-have pregnancy survival kit item because it lays out all of the important things you need to get ready for without much effort from your end.
8. Lip Balm
Pregnancy is a tricky time for our skin as hormone fluctuations are responsible for all kinds of skin changes.
For me, having a lip balm at all times was a must. Especially, working in the Operating Room where cold temperatures are the norm, my lips were prone to cracking.
My favorite lip balm and the one I use daily is the E.O.S Natural and Organic Stick Lip Balm.
This variety pack includes one stick each of Strawberry Sorbet, Sweet Mint, Vanilla Bean and Pomegranate Raspberry. They are made with sustainably sourced USDA Certified Organic Shea Butter, Coconut Oil and Jojoba Seed Oil. 
Second Trimester: Pregnancy Survival Kit
9. Comfy Clothes
In the second trimester, your current clothes will likely start to feel tight and uncomfortable. So, it is no secret that your pregnancy survival kit should include clothes that are comfortable and effortless.
Whether you are making your own maternity survival kit or are making it for someone else, here are some of my favorite maternity clothing must-have's:
 * Images below


10. Comfy Shoes
Continuing the comfy maternity clothes category and definitely a pregnancy must-have are comfortable shoes.
Pregnancy back pain is very common and one of the best ways to combat that is with comfortable shoes.
An affordable and popular maternity shoes option is the Skechers Sport Women's Empire Fashion Sneaker. 
11. Moisturizer
As previously mentioned, the fluctuation of pregnancy hormones are responsible for all types of skin changes. Ones of the most common, especially as your belly grows and skin stretches is itchy skin. (Source).
A great and healthy option is the Organic Shea Butter by Sky Organics (16 oz). It is made with 100% pure unrefined raw African shea butter and can be used for moisturizing face and body. Using organic and chemical-free products is a good idea, especially when pregnant. 
12. Compression Socks
I could not put together this pregnancy survival kit without including one of the items that had one of the biggest impacts during both of my pregnancies.
These were a lifesaver when I was pregnant with my first child and worked long shifts on my feet as an Open Heart Surgery Nurse.
They work by applying gradual pressure to the veins, arteries, and muscles inside your legs combating swelling in the feet and ankles, helping prevent and diminish varicose veins, and improving circulation throughout the body.
Studies have shown that using graduated compression stocking during pregnancy decrease leg problems such as swelling, tiredness and pain. Other studies have even concluded that wearing stockings in early pregnancy can reduce symptoms of nausea and vomiting.
* As always discuss it with your doctor prior to start using them.
14. Sleeping Pillow
Another pregnancy survival item is the pregnancy body pillow. As you will soon notice, typically as early as early second trimester, comfortable sleeping will be progressively become more challenging.
Why a body pillow? Well…
This "U" shaped body pillow helps support your back, hips, knees, neck, and head to help ease discomfort associated with pregnancy.
Also, what is different about this PharMeDoc Pregnancy Pillow in particular is that it comes with a detachable extension that can be used as its own full body pillow when you don't want to use the entire set. 
Third Trimester: Pregnancy Survival Kit
15. Tums
As you get closer to the third trimester there are a few items you will probably can't do without.
Heartburn is a very common pregnancy symptom. Although I was thankful not to have experienced it myself I know many moms to be that can't do without their Tums.
Pregnancy Gift Basket Ideas
If you are putting together this pregnancy survival kit for a friend here are other great pregnancy must-haves to include in your gift basket.
16. Movies
Who doesn't love movies? Moms-to-be are no exception. Include one of these classics in your pregnancy gift basket and watch her smile.
Here are some of my all-time favorites:
* Images below


17. Books
Books also make for great basket gifts. So, if you are putting together a pregnancy survival gift basket for someone else, consider adding one of these:
* Images below


18. Letters to Baby
Another great addition to any maternity gift kit is a Letters to Baby Journal.
This beautiful keepsake allows you to fill twelve envelopes with written messages for your baby. After you have written your letters, you seal the envelopes within the journal and gift it to your child at a later date.
19. Chocolate
Okay, let's face it… Chocolate is a great gift for any occasion, but I can almost assure you that a pregnant mama will be twice as grateful.
Also, just because it is chocolate doesn't mean that it can't be healthy. So, we will be choosing the healthiest chocolate version for our pregnancy survival kit: organic dark chocolate.
The Theo Organic 85% Pure Dark Chocolate is what we buy in our house. SO good… and healthy!
20. Funny Pregnancy Mugs
Mugs also make a great addition to any pregnancy kit. Especially, those that talk about "surviving pregnancy."
Here are some funny and cute options:
* Images below
21. Gift Card
Last but not least of items you can include in your Pregnancy Survival Kit gift basket, are of course, gift  cards.
Whether you buy a gift card for a particular store, or a debit card with a cash amount they will be of great use for a mom-to-be.
Favorite Pregnancy Gift Baskets 
So, what if you don't want to worry about putting any of those pregnancy survival items together?
There are plenty of options for that. Whether you are looking for a maternity kit for yourself or to gift to someone else, here are some great alternatives.
Both of the companies below allow you to purchase a one time Pregnancy Kit or to signup of a month to month subscription plan for the length of you pregnancy.
22. Earth Mama's Goodie Bag
This cute little thing is great gift for moms-to-be as it contains all clean, non-toxic, and organic ingredients.
It comes as a 5-piece, cruelty-free, travel-size set. It's eco-packaging is made from recycled cardboard, with no bleach, dyes or glue, and 100% recyclable. It includes:
Ginger Fresh Deodorant
Morning Wellness Castile Body Wash
Belly Butter
Belly Oil
Orange Ginger Lip Balm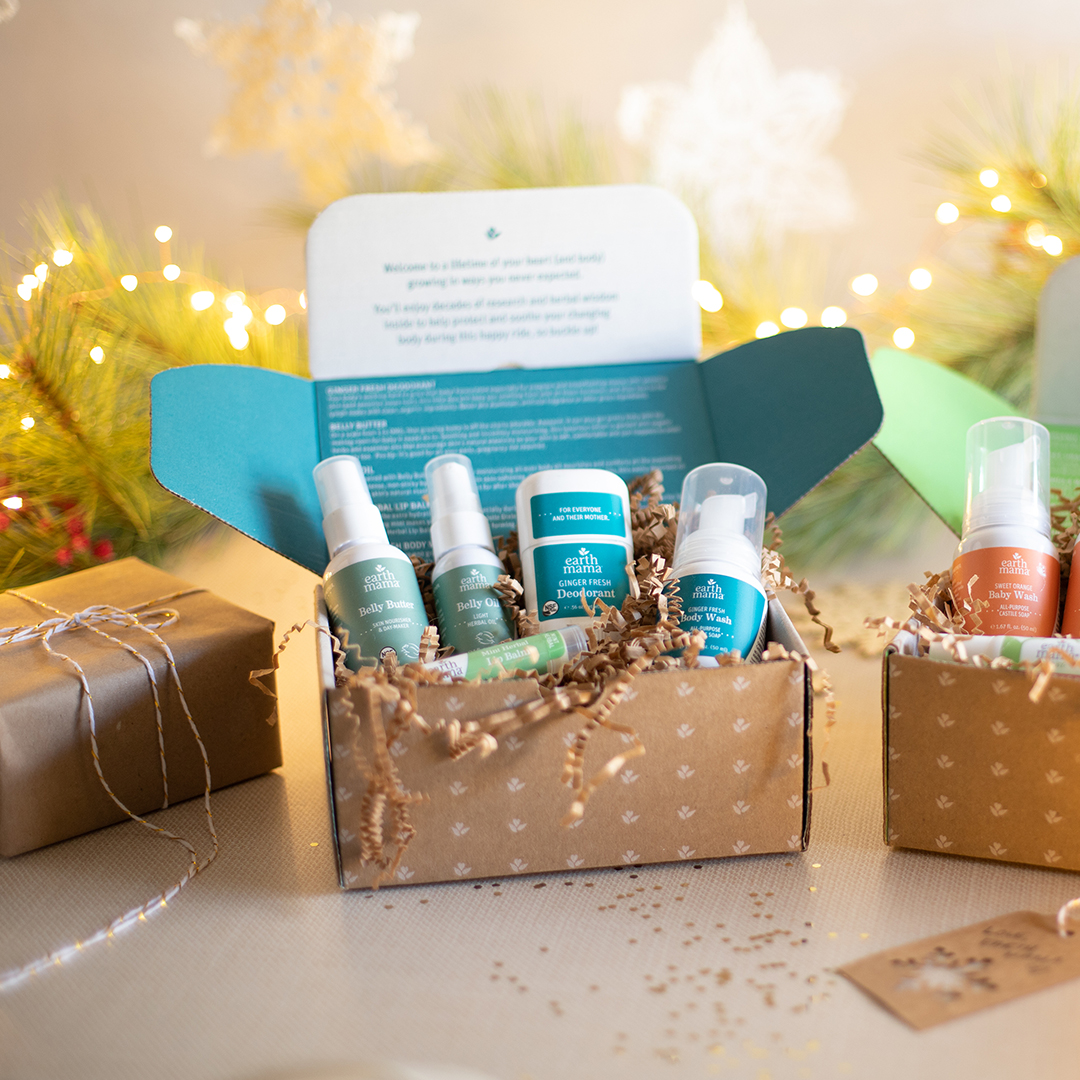 As with all of Earth Mama Organic's products, these too are free of toxins and chemicals, such as NO Propylene Glycol, Artificial Fragrance, Parabens or Aluminum.
If you would like to learn more about why Earth Mama is such a great company for expectant mamas and 15 of the best Earth Mama Products for pregnant mamas, postpartum, breastfeeding, and babies, click here!
23. EcoCentric Mom
Ecocentric Mom is a monthly delivery club for moms who want to discover and save on the very best non-toxic, organic, natural and unique products for themselves, their babies and their homes.
The Club offer not only subscription boxes which you can receive monthly , but you can also order a one-time box for yourself or as a gift.
>> Choose from one of their beautiful and healthy Pregnancy Trimester Boxes, here! <<
23. Bump Boxes
Bump Boxes are another great and popular option.
Their boxes are also made up of safe products to use during pregnancy as they as product is carefully selected to be chemical-free,
Every Bump Box has at least 5 products and whether as a monthly subscription or a one time purchase, it will be delivered straight to your door (or the address you choose to be sent to.
>> To learn more about Bump Boxes, click here <<
★ Related Articles: 
In Summary 
A Pregnancy Survival Kit can make a real difference in getting you through some of the most common hurdles.
So, whether you are putting together are kit for you or a dear friend now you have a full list of healthy and useful items you (or she) will love.
Remember, if you don't want to put one together yourself check out EcoCentric Mom or Bump Boxes to have a pregnancy goodie box delivered at your door.
What Pregnancy Survival Kit items must you have at your reach?
Don't forget to pin for later..