7 Best Online Newborn Care Classes (2023 Review)
Congrats on your pregnancy, mama! I am so excited for you as you patiently wait to meet your beautiful baby. As you wait, it is an honor I get to walk alongside your journey by walking you through the Best Online Newborn Care Classes to help you be better prepared when the baby arrives.
7 Best Online Newborn Care Classes
* This post contains affiliate links. Click here for more info.
Why invest in Online Newborn Care Classes?
As you will soon realize, caring for a newborn could be quite challenging for new moms.
In fact, many moms-to-be worry about the early days of newborn care. However, many great resources can assist you in learning about caring for your newborn and what to expect on the first few days/weeks home from the hospital.
After all, it is always better to be prepared and informed ahead of time than have to scramble to find answers once the baby arrives.
There is indeed no "parenting rule book." It is also true that there are things along the way that you will only learn by trial and error. However, you can learn many important things about your newborn, including what to expect, how to prepare, and how to handle certain circumstances.
Some important things you can expect to learn from the Online Newborn Care Classes on this list are:
Sleeping
Feeding (breast or bottle)
Baby cues
Babycare
Diapering
Medical emergencies
… and much more!
Online Newborn Care Classes vs. In-Person Classes?
Now more than ever, online childbirth classes have become a safer and more convenient way for moms-to-be to learn about childbirth and newborn care.
After all, online classes/courses offer fantastic advantages that are hard to pass up. Here are a few reasons why opting for an Online Newborn Care Class is a great idea.
Time. Oftentimes, in-hospital Newborn Care classes may feel rushed and impersonal. Opting for an Online Newborn Care class allows you to learn in your own time, at your own pace, in the privacy of your home, with those you love.
Convenience. Learning about the Newborn Care process, techniques, and strategies while sitting next to our husbands, in our pajamas, in our bed, rather than in a hospital classroom sound like a much better time to me. You also have the convenience of going at your own pace, pausing, playing, forwarding, and rewinding the video content as needed.
Lifetime or Extended Time Access. With Online Newborn Care Classes, you will be presented the information in short, straight-to-the-point videos. Therefore, you are free to learn in your own time. Depending on the Newborn Class you opt for, some will give you access to the course for a few months, while some will grant you lifetime access.
Access to ongoing support and answers to your questions. One of my favorite things about some of these courses is that they offer ongoing support as you navigate through the newborn stage. For instance, once you enroll in Baby, We Are Home! It's Time to Sleep; you will be granted access to a Private Facebook Group. There, you will meet other fellow moms walking alongside your journey and receiving ongoing support from the course instructor and/or other group admins.
How do Online Newborn Care Classes Work?
The concept of taking an online class or course is very simple.
Once enrolled in the class/course of your choice, you will be given access to all of the course's content (videos, reading material, and bonuses)—depending on your chosen course.
Then, you can watch the video lessons on your own time and pause and replay as needed.
In addition, some of the following Online Newborn Care Classes come with additional support by offering things such as a private Facebook group and one-on-one email communication with the course creator.
Next are 7 of the best Online Newborn Care Classes for new moms. They will be broken down into the following categories so that you can pick the best one for you!
Course Overview
Who is This Newborn Class For?
Best Features
Course Content Overview
Instructor
Let's get started…
1. Mama Natural Baby Care Course
Course Overview
The Mama Natural Baby Care Course is one of the most comprehensive online masterclasses currently available, which teaches you everyday baby care. It also helps you troubleshoot some common challenges that might come your way as you learn how to take care of your sweet baby.
What I love about this newborn care class is that, unlike some training programs focusing on first aid, this class is comprehensive on everyday baby care for your precious new baby. Over the span of 13 sections, experts will hold your hand through all of the challenges you'll face as a new parent.
Who is this Baby Care Course for?
This course is for soon-to-be parents who are looking to learn how to care for a newborn with calm and confidence. This course will teach you practical tips and insights from experts in baby care while also helping you connect with a group of moms like you.
Best Features
What I love most about this course is that a group of experts in the field teaches it. They include:
A holistic pediatrician to give you tips on what to feed your baby.
A board-certified lactation consultant to help you master breastfeeding.
And a firefighter / CPR instructor to make you aware and prepared.
And of course… Genevieve Howland (the course creator, best-selling author, and founder of Natural Mama Birth Course.
Imagine having access to a team of expert health professionals in your home whenever you need them as you raise your newborn. That is simply amazing!
Another great feature is that this baby course includes a private forum moderated by a certified doula and Mama Natural herself.
Course Content Overview
Baby Sleep
Baby Poop
Baby Cry
Baby Play
Baby Grow
Baby Care
Baby Aliment e
Baby Safety
Baby Gear
Plus, bonus material such as Mama Love and Family
Instructor
The Mama Natural Baby Care Course was created by Genevieve Holand, bestselling author and creator of MamaNatural.com. This course is also taught by a panel of other experts, including Dr. Elisa Song (Holistic Pediatrician), Laura Winkler (Lactation Consultant, Midwife), and Firefighter Tim (Firefighter Paramedic, AHA-Certified Infant CPR Instructor).
2. The Baby's First Year And Beyond
Course Overview
The Baby's First Year and Beyond by Tinyhood offer new parents bite-size on-demand video lessons and downloadable handouts about tips and expert advice to avoid the common pitfalls and confidently navigate the baby stage and beyond.
Who is Online Newborn Class For?
This Baby Course is for expecting and new parents who want monthly access to practical videos on all things baby, including growth, breastfeeding, CPR, introducing foods, and much more.
Best Features
On-demand videos you can access anytime, anywhere.
Low monthly subscription fee you can cancel at any time.
Over 34,000 reviews from parents who have already taken the classes!
Course Content Overview
The Baby's First Year and Beyond is a full collection of video classes covering the following 13 topics:
Infant and Child CPR & Choking (0-12 Years)
Breastfeeding: Clogged Ducts, Pumping & Building a Stash, and More
Introducing Solids: The Ultimate Guide to Getting Started
Baby Gas: How to Spot it and Fix it
Tummy Time: Making it Stimulating and Safe
Common Illnesses in Babies: What to Know About Ear Infections, the Flu, RSV, and More
How to Support Baby's Physical Development from Day One
Navigating the 4-Month Sleep Regression
Sleep Training, Regressions, and Troubleshooting (5 Months+)
Injuries and Emergencies in Babies: Cuts and Burns, Swallowing Objects, Head Injuries, and More
Relationships & Mental Health After Baby
Baby Sign: How to Support Your Baby's Communication Skills
Baby Nutrition: Introducing Flavors & Textures, Mealtime Misbehaviors, and More
Instructors
These valuable classes are taught by 12 experineced experts in multiple fields, including: Kate Arquilla (MS, RN), Dana Czuczka (MPH, IBCLC), Vanessa Thornton (RD, CSP), Ashley Derderian Sousa (RN, BSN, IBCLC), Dr. Chase Parsons (DO, MBI), Brita DeStefano (DPT, PCS), Jennifer Denzel (CSC), Divya Kumar (LCSW, MSW, PMH-C), Stephanie Tuttle (MA, CCC-SLP), Natalie Willes.
3. The Baby Manual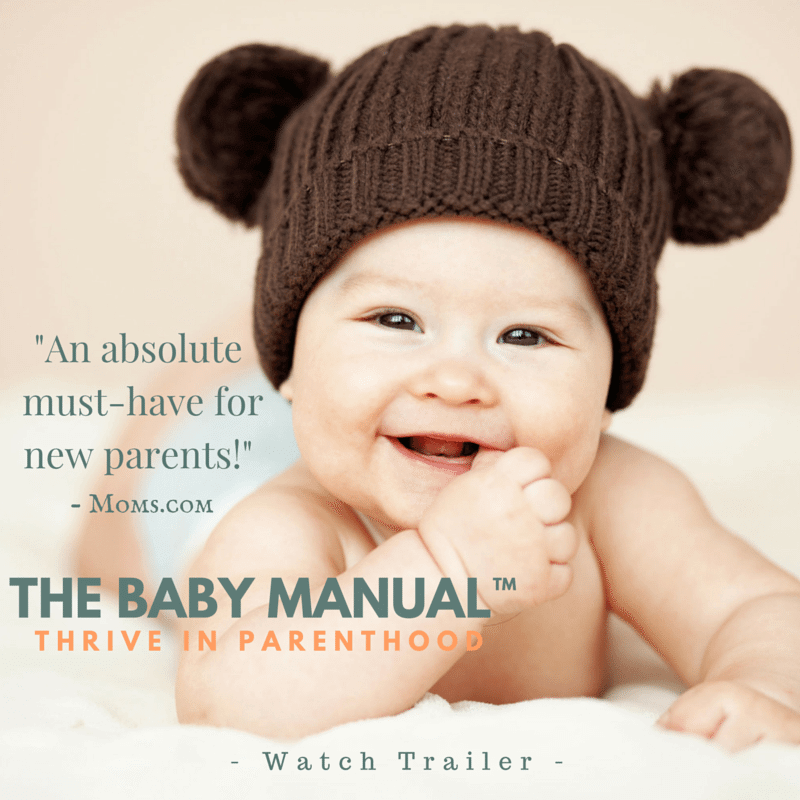 Course Overview
The Baby Manual™ is an award-winning video series in which real parents, practicing medical professionals, and industry experts provide detailed answers and step-by-step demonstrations for all your first-time parenting questions.
Who is This Online Newborn Care Class For?
This course is for parents looking to learn all about newborn care from experts in the field from the comfort of their homes.
Best Features
The Baby Manual™ platform offers multiple pricing tiers depending on your needs.
Course Content Overview
All paid plans offer 4 hours of premium content, and they include:
Welcome!
Baby Gear
Getting Home
Baby Weeks
Breastfeeding
Formula Feeding
Diapering and Bathing
Reducing Crying
Health and CPR
Sleep Routine
Fun Activities
Out & About
Finding Childcare
Adjusting to Parenthood
Instructor
Classes are taught by practicing medical professionals and industry experts. To see a detailed Bio of all course instructors, check out The Baby Manual™ home page.
4. Newborn Baby Sleep Course
Course Overview
The Newborn Baby Sleep Course is a fantastic, inexpensive newborn sleep class Andrea de la Torre taught.
Who is Online Newborn Class For?
This Newborn Course is for expecting and new parents looking to gain insight into the newborn period (0-15 weeks) and set the best foundation for getting sleep.
Best Features
Everyone can benefit from this information, including moms, dads-to-be, parents with newborn babies, grandparents, aunts, uncles, or caretakers!
Course Content Overview
This Newborn Baby Sleep Course is a video course but also contains Bonus Docs, including a 1-page PDF that outlines the main points of the video course. The video course includes the following topics:
Emotional Readiness
The Perfect Sleep Environment
Why do newborns fight sleep?
Feeding a newborn
Newborn sleep science 101
In the middle of the night
Baby won't sleep alone!
Help with schedule
The hard nights
The 4-month sleep regression
Night weaning
Instructor
Andrea De la Torre teaches this Newborn Sleep Course. Andrea is a Sleep Consultant and has spent the last 5 years creating products that help parents understand their baby's sleep and be able to help them get more of it.
5. Birth it Up: Newborn Care Basics
Course Overview
The Newborn Care Basics is a wonderful lesson in one of the Liesel Teen's Birth it Up Series (Natural, Epidural, or C-Section). This course section includes newborn care video-taught lectures, live demonstrations, resources, detailed information, troubleshooting, step-by-step guides, and tips/takeaways from a fellow mom and Labor Nurse!
Note: The Newborn Care Basics Lesson is NOT a stand-alone course. Enrolling in one of the three Birth it Up Series is a bonus.
Who is This Online Newborn Care Class For?
This lesson is perfect for moms to be which are looking for an Online Birthing Class (Natural, Epidural, or C-Section) along with a Newborn Care Course.
Best Features
This course is a self-paced, self-start course. You will be granted access to Newborn Basics Lesson immediately, and you can access it at any point during your pregnancy.
Course Content Overview
The course is comprised of 8 Sections, and they are each broken down into 3-5 video lessons.
General Newborn Info
Feeding
Diapering and Hygiene
Sleep
Heath and Safety
Postpartum & The "New Normal"
Instructor
Liesel Teen is a Labor Nurse, mom of two, and founder of Mommy Labor Nurse. She uses her clinical knowledge and personal experience to help you through this exciting and often overwhelming process.
6. Newborn Course: "Will I Ever Sleep Again?"
Course Overview
"Will I Ever Sleep Again" is a comprehensive yet simple online newborn care class that helps you go from feeling insecure and unprepared about baby sleeps to confidently laying a healthy foundation for your baby.
Who is This Newborn Course For?
The Newborn: Will I Ever Sleep Again is an online class for expectant parents and babies 12 weeks and younger.
Best Features
With this Newborn Class, you will receive:
Four months of access to the online prerecorded class, broken down into easy-to-watch (and rewatch) segments.
Helpful downloads and sample schedules for easy reference!
The tips to confidently lay a healthy sleep foundation for your baby so you can LOVE this newborn stage.
Course Content Overview
This Newborn Class is aimed to help you learn how to:
Calm a fussy baby
Have confidence as a parent
Read your baby's cues
Set your days and nights up for success
LOVE the newborn stage!
Instructor
The "Will I Ever Sleep Again" is taught by Cara from Taking Cara Babies. Cara is a mom of four, a neonatal nurse, a pediatrician's wife, and a certified pediatric sleep consultant.
7. Mastering Medical Emergencies for Moms
When we think about newborn care, we don't think about medical emergencies.
As moms, medical emergencies is the last thing we want to consider when it comes to having and raising children. Inevitably, part of watching them grow up often includes facing unpleasant situations.
I would be lying if I told you that the thought of any medical emergencies involving my children didn't terrify me. Despite being a nurse, that is the one thing that I have always been overly conscious about.
Resources like Mastering Medical Emergencies for Moms will help you feel confident knowing what to do when your kids get sick or injured.
This course contains videos, information, and support on the most common medical emergencies and sicknesses that could happen at home, such as:
Fevers
Respiratory Illness
Ear Infections
Vomiting
Head Injuries
Abdominal Pain
Seizures
Allergic Reactions
Broken Bones
Burns
Ingestions
Choking
Each Module includes educational information in:
Easy-to-understand video instruction
Downloadable PDF guides
Audio downloads
You will also receive the following as BONUS material:
Pediatric Preventative Health Guide
Babysitter Guide
Headache module
Immunity module
Once purchased, you will receive lifetime access to this course to refresh your knowledge over the years, as needed.
Moms who have taken this course have wonderful things to say about it. You can check out some of their testimonials here.
This handy course was created and is taught by Shannon Tripp. Shannon is a mom of four and has been a pediatric ER nurse for ten years. She teaches this course from a personal balance found in modern medicine and holistic health.
8. Milkology Breastfeeding Classes
An important and integral part of the newborn care process is breastfeeding. If you opt to breastfeed, you will need all the help you can get, especially during the first few weeks postpartum.
Course Overview
Milkology has some of the best and most affordable Online Breastfeeding Classes today. They teach you all you need to know about breastfeeding, pumping, and everything in between.
Who is this Breastfeeding Class For?
The Milkology Classes are ideal for pregnant woman wanting to breastfeed or for moms of newborns looking for breastfeeding help and pumping help.
Best Features
Learning about breastfeeding in a more intimate and paced environment is a wonderful thing. That is why this Online Breastfeeding Course is heaven-sent.
Just like the Online Newborn Care Classes listed here today, all of the following Milkology courses allow you to watch the material at your own pace, with the ability to pause and replay from the comfort of your home.
Another great feature is that access to all Milkology Classes, once purchased, are yours for a lifetime.
Course Content Overview
Milkology features THREE classes, and they are all sold as stand-alone courses. They include:
The Ultimate Breastfeeding Class. This simple step-by-step program covers everything you need to know in 13 easy-to-watch lessons.
The Ultimate Exclusive Pumping Class. This is the Breastfeeding class you need if you will be exclusively or almost exclusively pumping. Its simple step-by-step program covers everything you need to know in 11 easy-to-watch lessons, including tips and tricks to help you along the pumping journey.
The Ultimate Back to Work Pumping Class. Last but not least, The Ultimate Back to Work Pumping class navigates you through how to pump effectively and other important information, such as pumping and planning to return to work.
Instructor
Milkology Breastfeeding Classes are taught by Stacey Stewart, Certified Lactation Educator through CAPPA, a mom of 3 and the founder of Milkology.
Online Newborn Care Classes Overview
★ Related Articles:
In Summary
There is much to learn regarding newborn care and the first few days home from the hospital.
Although there are some things a new mom will only learn from trial and error, you can learn many other things from one of these helpful Online Newborn Care Classes taught by professionals and MOMS!
Being prepared and learning all you can ahead of time about your newborn and their needs will help you feel empowered and at ease about your new journey!
What Online Newborn Care Class do you think will help you best?
Don't forget to pin for later!