10 Great Child-Sized Furniture Every Child Needs!
Buying our children child-sized furniture is not something we automatically think about when we are designing their bedrooms or playrooms.
After all, they will eventually grow into regular-sized furniture.
Well…
*This post contains affiliate links. Please click here for more info.
Why is child-sized furniture important?
Imagine if you lived in a home where all furniture was too tall for you to use.
Imagine you needed to place a pillow under you to eat your food at the dinner table. Or you had to kneel in a chair to reach your desk and get work done.
It doesn't sound like a good time, huh?
Investing in child-sized furniture allows our children to experience the world around them as "normal." In essence, creating a sense of independence and confidence.
When our kids have furniture their size around them, they are more likely to be more independent. That is because they can use it without help or restrictions. In turn, allowing them to feel more confident about their surroundings and their environment.
Lastly, it allows us to join their world. Playing and interacting at eye level with them is incredibly beneficial to their development.
Next are 10 great child-sized pieces of furniture for every part of your home kids will love! All of the following items can be found on Amazon, and remember you receive fast and free shipping when you use Amazon Prime. If you don't have Amazon Prime yet and want to try it, here is a FREE 30-day trial!
10 Great Child-Sized Furniture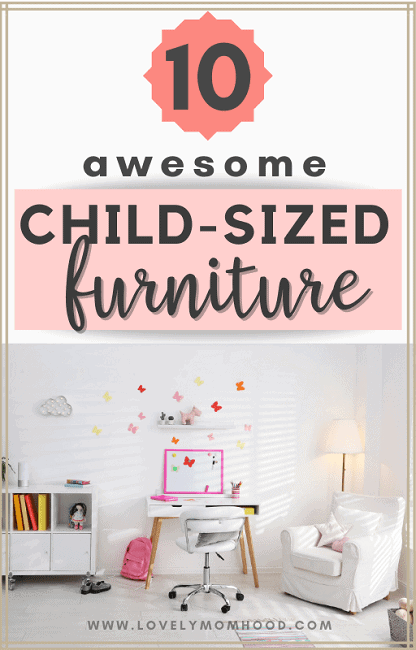 *This post contains affiliate links. Click here for more info.
1. Child-Sized Recliner
Recliners are often a family favorite. They are comfortable, cozy, and relaxing. So how cool would it be if our kids had a recliner of their own where they could sit and read?
A great and affordable option is the Contemporary LeatherSoft Kids Recliner. It is an Amazon's Choice product with almost 7,000 happy customer reviews. This child-sized recliner comes with a handy cup holder and headrest. It also comes in multiple colors to choose from.
2. Child-Sized Upholstered Chair
If a recliner isn't exactly the look you are looking for, consider this Single Linen Fabric Kids Armchair by KOPPOO.
As per the manufacturer, this child-sized chair is made of durable wood, high-density foam, and covered with linen fabric. Making it durable and long-lasting. I love that it has a matching child-sized sofa (sold separately).
Another less formal and popular option for a child-sized armchair is the
Delta Children Disney Minnie Mouse Upholstered Chair.
They don't just feature Minnie. Their collection also features an array of our kid's favorite characters— Cars, Frozen, Paw Patrol, Peppa Pig, Disney Princess, Toy Story, and more!
3. Child-Sized Couch/Sofa
Next in our child-sized furniture list is every child's favorite… a couch/sofa—their size!
There are many options for child-sized sofas in the market today, but I must admit they can be a bit pricey.
This 2-Seater Upholstered Kid's Sofa is a beautiful and inexpensive option, also by KOPOO.
If, however, you are looking for something less formal and more "playful," the Toddler Couch & Kids Sofa is a popular option.
It is European-made and comes built-in with a 2- 1 flip-open, fold-out lounge.
4. Child-Sized Table and Chairs
Next on our list of child-sized furniture, and probably one of the most important, is a table and chairs. This single piece of furniture is incredibly versatile and indispensable for children of all ages.
My favorite child-sized furniture for this category is the White Kids Wood Table & 4 Chair Set Primary by Humble Crew. My sister gifted my kids this set one Christmas, and it became a lifesaver. My children used this table and chair set for many years because it was multipurpose.
They use it to draw, play, eat, do homework, read, and more. I love that it wipes easily and that it is easily transferable to any room of the house. 
5. Child-Sized Desk
Another helpful furniture piece for children is a desk. Having a designated place where they do all of their homework is ideal. It helps with posture, productivity, and concentration.
There are multiple options for child-sized desks, so here are 3 different styles to consider…
Mount-It! Kids Desk and Chair Set. This is a great and popular option for a child's desk as it comes with adjustable height and a storage drawer.
Both the chair and the desktop can be raised to meet our children growing demands, which is awesome. It also comes with the option of tilting the desktop, which is handy for some activities.
Another option is this Wood Ergonomic Student Writing Desk and Chair Set. This child's desk comes with a more traditional design. However, it is also built with adjustable height for both desk and chair. It also comes with storage drawers and built-in bookshelves, which are extremely beneficial in keeping things organized.  
Last but not least is this Desk with Storage Bin for Kids. This design is ideal for younger children learning to write and getting used to having a designated learning space and is an "Amazon Choice" product.
6. Child-Sized Folding Chairs
Another great and handy child-sized piece of furniture to have around is a folding chair. They are very handy to keep in the car for things such as sports games, picnics, beaches, BBQs, camping, and many other family outings.
The Kids Outdoor Folding Lawn and Camping Chair is a family favorite. It is lightweight and portable measuring 5 X 6 X 25 inches and weighing only 3 pounds.
This kids' folding chair supports up to 225 pounds and is more suitable for kids 3 -10 years old. No assembly is required and it comes in multiple colors and designs.
7. Child-Sized Book Case
One of the most important items in our child's living spaces should be their size in bookcases! They should be able to access their books and other supplies easily. This, in turn, encourages them to read more and learn more.
Something like the Kids Book Rack from SEIRIONE is a fantastic option for younger kids. Not only does it allow us to showcase the books for easier selection, but it also features two storage boxes and toy organizer shelves. 
Another option is this Bush Furniture Broadview 6 Cube Storage Bookcase. I love that it has a more traditional bookcase look and can grow along with your child. It can also be used as a cubby holder and organizer.
8. Child-Sized Wardrobe
Can you imagine if you weren't able to find your clothes?
One of the most important developmental aspects of children's growth is learning to be self-efficient and independent. One of the earliest ways they learn this important skill is by choosing their clothes and learning how to dress themselves.
If your child's closet isn't set up so that they can reach their clothes, a child-sized wardrobe can help.
This Kids' Dress Up Storage from Millard is a gorgeous option. This kids' wooden wardrobe features a hanging rod, 3 storage baskets, a shelf, and several hooks, so it's easy to keep all your dress-up stuff neatly arranged and contained.
9. Child-Sized Rocking Chair
Out of this entire list of child-sized furniture, a child rocking chair is the dearest and nearest to my heart. My grandfather, a master carpenter (may he rest in peace) used to make adult-sized rocking chairs and all other sorts of woodwork (including ships!).
I remember the beautiful days I spent at my grandparent's home, rocking in their wooden rocking chairs. I also remember falling asleep in their arms in those same rocking chairs when I was little.
Well, one summer, my grandfather built a child-sized rocking chair just for me! I felt so proud to have my own rocking. And ever since, when the adults gathered in their rocking chairs, I also had a special place.
A popular and affordable option is the Colonial Rocking Chair by Gift Mark. They are made of solid wood and come in multiple colors.
10. Toy Storage Organizer
Last but not least in our list of child-sized toy organizers. Much like everything else on this list, having a toy storage and organizer, they have access to will encourage them to play with their toys and help with the cleanup routine afterward.
The Children My Size 9 Bin Plastic Toy Organizer from Delta is a great option. The 9 plastic bins come in varying sizes to easily stow books, toys, art supplies, or books.
★ Related Articles:
In Summary
Child-sized furniture can be a fantastic asset to our children. Not only in a literal sense (for storage, organizing, and fun) but to encourage them to be more independent and confident.
What child-sized furniture do your kids have? Which did you have as a child that you still remember?
Don't forget to pin for later…